Flux (light) Collector

90 cm (36 inch)
Index:
Summary; History; Current; Technical; Sources; Links; Gallery:
In brief
Important  Contributions:
Description:
First fully automated telescope in South Africa. (What we today call Go To Telescopes.)
Historical Background
Owners:
Leiden Observatory.
Where  Located:
Leiden  Southern Station, Hartebeespoort: 1957 – 1978.

European Southern Observatory (ESO) at La Silla, Chile: 1978 – ?
Current  Information
Present  Location:
Owner:
Status:
Condition:
Technical  Details
Type: Cassegrain Reflector
Aperture: 36 inch (91.4 cm)
Focal Length:
Mirror:
Mounting:
Attachments:
Fitted with a simultaneous operating five colour spectrometer.
Manufacturer:
Operational History:
Building:
Sources
Documentation:
Pictorial  Sources:
Moore, P. & Collins, P., Astronomy in Southern Africa, p.110.
Bibliography:
Moore,  P. & Collins, P., Astronomy in Southern Africa, pp.108 – 109. (General S
Gallery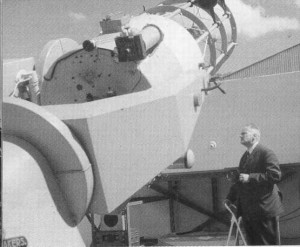 The 36 inch Flux-collector telescopewith Patrick Moore at Leiden Southern Station, Hartebeespoort.
Photo Credit: Pete Collins. Source: Moore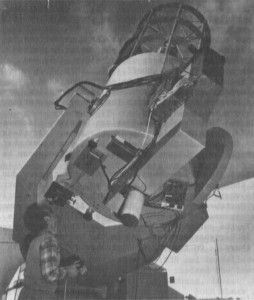 Prof Theo Walraven with the Flux Light Collector.
Source: MNASSA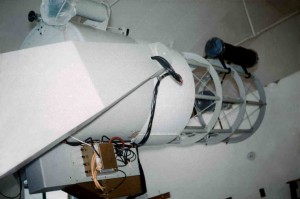 Close up of the Telescope.
Source: A.S.S.A. Archives: Peter Smits Collection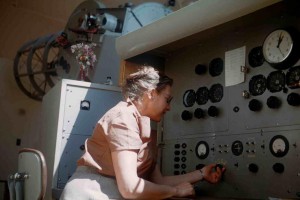 Mrs Walraven at the controls console of the 0.9m Flux-Collector.
Source: A.S.S.A. Archives: Peter Smits Collection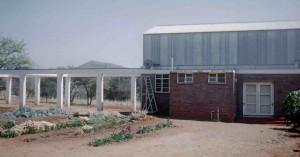 Flux Collector Building.
Source: A.S.S.A. Archives: Peter Smits Collection