---
January 2021
Hunting Spectres on the Moon
As the line of day & night (the terminator) falls across the Moon, sunlight glints off terrain of high relief while leaving lower regions bathed in shadow. This interplay of light and dark can create striking and short-lived features, known as "clair-obscur effects".
Some of these lunar moments have evocative names, such as "Cassini's Moon Maiden" and "Gruithuisen's Lunar City".
The visibility of these fleeting events depends on the underlying terrain, the angle of the Sun's light, and, of course, the visibility of the Moon from your location.
In the 2021 edition of the Sky Guide, the astronomical handbook for southern Africa, predictions are given for the visibility of the "Lunar X" (p 6). The effect occurs during each lunar month, but only the event on 2021 January 20 will be visible from South Africa.
Clair-obscur guru Dana Thompson has kindly also supplied information about spotting the "Curtiss Cross". This effect was first recorded on 1956 November 26, by astronomy enthusiast Robert E. Curtiss (New Mexico, USA). The distinct formation lies near the crater Copernicus (see accompanying photographs).
During 2021, there are three opportunities to witness this spectral sight: 2021 April 06, June 04, and November 28.
Happy hunting!
2021 Jan 07 09:08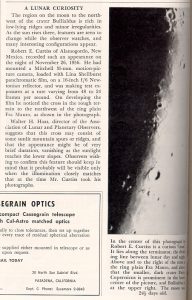 2021 Feb 05 23:42
2021 Mar 07 13:44
2021 Apr 06* 02:53
2021 May 05 15:04
2021 Jun 04* 02:28
2021 Jul 03 13:24
2021 Aug 02 00:20
2021 Aug 31 11:42
2021 Sep 29 23:48
2021 Oct 29 12:50
2021 Nov 28* 02:44
2021 Dec 27 17:14
Times in SAST
* Visible from         South Africa

---
21 December 2020 – Great Conjunction
Photo by Angus Burns, Newcastle KZN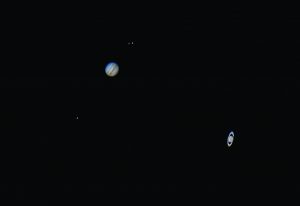 ---
14 December 2020 – Solar Eclipse
---
'Star of Bethlehem ' to light up SA skies – A bit of celestial wonder to end the year.
Prepare to witness a celestial event that's been dubbed the "star of Bethlehem" in our night skies in the coming weeks. Dr Daniel Cunnama, a science engagement astronomer at the South African Astronomical Observatory, confirmed that a spectacular conjunction of Jupiter and Saturn on 21st December will be visible in South Africa. "You can look to the West just after sunset and you will see them over the next two weeks".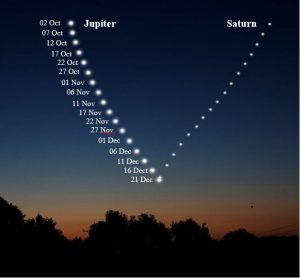 According to the BBC's Sky at Night magazine, the closest giant planetary "kiss" since 1623 will see gas giant planets Jupiter and Saturn just 0,06° apart.
"Our Solar System's two gas giant planets have been edging closer in recent months, and on Monday, December 21 Jupiter and Saturn will be less than a degree apart in the night sky," says the magazine.
The spectacular sight will be visible in clear skies across the world. Sky at Night said Jupiter and  Saturn won't really be close to each other at all. "In fact, on that date — which also just happens to be the date of the December solstice — Saturn will be about twice as far from Earth as Jupiter will be.
"However, our line of sight from Earth will suggest otherwise, as we all get to witness (clear skies allowing) the closest planetary conjunction of Jupiter and Saturn that most of us are ever going to see. "Saturn and Jupiter appear to pass close to each other, as seen from Earth, every 20 years, and when they do we call it a 'great conjunction'."
If you see it, count yourself lucky.
---
Fireball Sighting Cape Town – 5th December 21:39
Dean Kűbler of Cape Town just witnessed an extraordinary fireball / meteorite sighting at Sunset Beach in Cape Town.
At approx 21:39 on Saturday 5th December, he witnessed a glorious fireball, which seemed quite big / close ( in comparison to any stars or any usual light object such as aircraft) streak across the night sky, traveling in a NNE direction over Sunset Beach. The fireball was preceded with what seemed to be quite a trailing fire and sparks. He observed it for about a solid second, it disappeared for a split second and then reappeared for another second or two, almost in a flashing / streaking manner.
Dean says "It is indeed a first for me to have observed such a moment and I would be keen to find out if any other peoples observed same, or even better, if details could be passed on about the meteorite".
---
2021 Sky Guide Africa South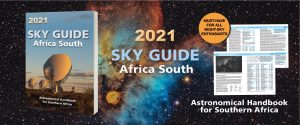 Now available from ASSA Centres or if you join as a country member
---
Comet C/2020 M3 ATLAS
by Kos Coronaios
Comet C/2020 M3 ATLAS is currently in the constellation of Orion. At Vm +8 (11/11/2020), the comet is not visible with the naked eye or with binoculars (10 x 50), but is within reach of small to medium sized telescopes ( it was an easy target in an 8-inch f5 SkyWatcher).
Discovered by the ATLAS telescope system earlier this year (June 27, 2020), it makes its closest approach to Earth on the 14th November. The ATLAS telescope system developed by the University of Hawaii is an asteroid or comet impact early warning system. The comet reached perihelion, closest approach to the Sun on October 25th this year. At closest approach to us, it will be 53 613 439 km from Earth and will not return until the year 2159. The comet appears as a small fuzzy diffuse object and not star-like at all. A position change can easily be noted after observing for 60 minutes or so as it moves at 51 500 km/h while the nearby stars appear or seem to be fixed in their positions. Over a 24 hour period the comets movement is easily noted.
The two images were taken from Pearly Beach in the Western Cape around midnight on the 11th November.
---
Comet C/2020 F3 NEOWISE
by Kos Coronaios
This comet is a long period comet with a near-parabolic orbit discovered on March 27, 2020, by astronomers during the NEOWISE mission of the Wide-field Infrared Survey Explorer space telescope.
At that time, it was an 18th-magnitude object, located 2 AU (300 million km; 190 million mi) away from the Sun and 1.7 AU (250 million km) away from Earth.
NEOWISE is known for being the brightest comet in the northern hemisphere since Comet Hale–Bopp in 1997. It was widely photographed by professional and amateur observers and was even spotted by people living near city centers and areas with light pollution. While it was too close to the Sun to be observed at perihelion (03 July 2020), it emerged from perihelion around magnitude 0.5 to 1, making it bright enough to be visible to the naked eye. Under dark skies, it could be seen with the naked eye and remained visible to the naked eye throughout July 2020. By July 30, the comet was about magnitude 5, but binoculars were required near urban areas to locate the comet.
For observers in the southern hemisphere, the comet was visible from around the 26th July a couple of degrees above the northern horizon after sunset. At around magnitude +5 it was never going to be visible with the naked eye due to it's proximity to the horizon shortly after sunset, but it was a reasonably easy target for binoculars as well as small telescopes by the first week in August. Currently at around magnitude +7 it is in the constellation of Virgo, moving into Libra by the end of September 2020.
---
Comet C/2020 F8 (SWAN)
by Kos Coronaios
Comet C/2020 F8 (SWAN) was discovered in images taken by the SWAN camera on March 25th 2020, aboard the Solar Heliospheric Observer (SOHO), I was fortunate to have a number of imaging/observing sessions before the comet moved to close to the horizon in the early hours of the morning to be visible from my location in Pearly Beach, Western Cape. These started from the middle of April, with the last session on the 5th May when proximity to the horizon as well as the Moon became problematic.
Analyzing the images from SWAN, Michael Mattiazzo, (Swan Hill, Australia), realized that they showed a new comet in outburst. The comet increased in brightness becoming a naked eye apparition towards the end of April. While Southern hemisphere observers have had the best seats from around mid April to early May, the comet is rapidly moving northwards and if the comet's brightness increases or at least remains as is for the next few weeks, northern hemisphere observers and astrophotographers are in for a treat. Comet SWAN will make its closest approach to Earth on May 12 and reach perihelion on May 27.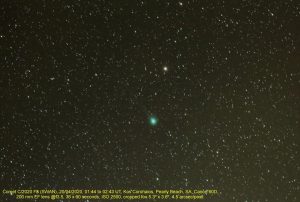 ---
Sky Guide 2021 now available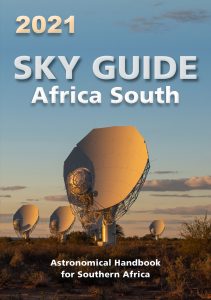 ---
A Bit of Sky Guide History
The first edition of this Sky Guide was published in 1946 and was known as the Astronomical Handbook for Southern Africa. It consisted of 12 pages and was available for 1/6 from Juta and Co., Darling Street, Cape Town. Dr Richard Hugh Stoy of the Royal Observatory carried out most of the calculations, assisted by Mr Reginald de Kock, Dr Alan Cousins and other members of staff. In 1957 the book was redesigned and most of the calculations were performed by the Transvaal Centre's Computing Section. In 1962 the Handbook was sold for 25 cents, and the Royal Observatory was again responsible for generating the data. In 1974, Dr Tony Fairall at the UCT Astronomy Department took over as editor. The next 13 issues were edited by Mr Rupert Hurly until Ms Pat Booth took over in 1990. During 2003, a committee consisting of Auke Slotegraaf, Maciej Soltynski and Cliff Turk, assisted by many helpers, redesigned the Handbook. After much deliberation the name was changed to the Sky Guide.
---
Big 5 of the African Sky
Published 2017 June 23
The Big 5 of the African Sky – the five best deep-sky objects – are beautifully placed at this time of year for observing.



Find out more about the Big 5 and how to observe them and also how to qualify for this beautiful personalized mug!