---
Sky Guide 2023
This edition now features more star charts, double the amount of astrophotos and greater geographical coverage. In addition, a digital supplement is available for free downloading.
Sky Guide Southern Africa 2023 e-book  is now available. Please click on the link to view: https://www.penguinrandomhouse.co.za/book/sky-guide-southern-africa-2023/9781775848127
---
The Latest News
---
24 March 2023
MNASSA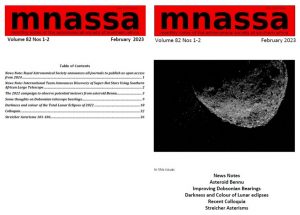 The latest edition of MNASSA February 2023 is available for download.
---
13 March 2023
Durban Centre Newsletter for March 2023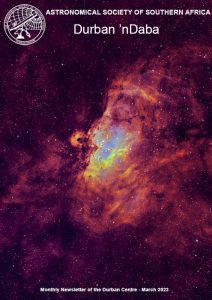 Click the image to  visit the Durban site.
---
17 February 2023
Southern Skies – 5th Edition February 2023

---
10 February 2023
Astronomy & Astrophysics Journal
The good work by Clyde Foster, ASSA Planetary Specialist, has been recognised again.
He was included as a co-author in a paper accepted for publication in the Astronomy & Astrophysics journal (A&A).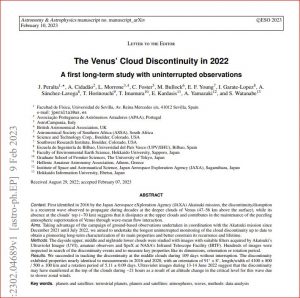 The link to the full article: http://arxiv.org/abs/2302.04689
---
25  January 2023
CAM Notes 2023 #1 January – March


---
22 December 2022
An observing campaign to search for meteoroids …
Tim Cooper, the ASSA Comet Asteroid & Meteor Director, is co-author of a new paper titled 'An observing campaign to search for meteoroids of Bennu at Earth' in the latest publication of the journal Icarus.  For more info: https://assa.saao.ac.za/sections/comet-asteroid-meteor-section/
---
Big 5 of the African Sky
The Big 5 of the African Sky – the five best deep-sky objects – are beautifully placed at this time of year for observing.



Find out more about the Big 5 and how to observe them and also how to qualify for this beautiful personalized mug!