---
April 2021
The Botswana super-bolide and meteorites from asteroid 2018 LA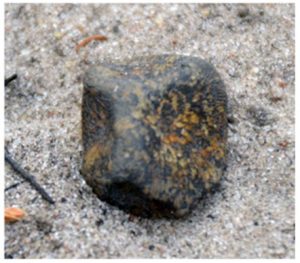 Meteorite MP-19, found by Tim Cooper in Central Kalahari Game Reserve on October 12, 2018. Image courtesy Dr Peter Jenniskens.
Almost three years since the entry of asteroid 2018 LA into the atmosphere over Botswana on June 2, 2018, the scientific results generated by sixty-six authors, collectively known as the '2018 LA Consortium', and after an in-depth analysis of the recovered meteorites from 2018 LA, are now out in an article in Meteoritics and Planetary Science.
Discovered just a few hours earlier, asteroid 2018 LA entered earth's atmosphere at 16h44 UT, and resulted in a bolide which reached magnitude -23 during its disruption at an altitude of 27.8 km.  The resultant explosion deposited meteorites over a strewn field located in the northern part of the Central Kalahari Game Reserve (CKGR) in Botswana.  Several videos were secured which captured the visible passage of the bolide, including the bright explosion, which enabled a precise determination of the location at which the disruption occurred.  The screen grabs at right show the passage as seen from a commercial property in Gaborone just prior to the disruption of the meteor.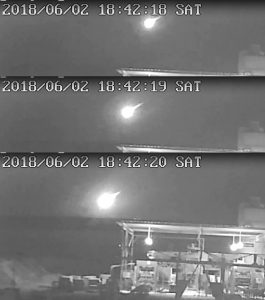 Left: Screen grabs of the bolide from a security camera in Gaborone. Images reproduced with kind permission of Beverly Lombard.
ASSA's Tim Cooper calibrated videos of the bolide to help determine the location of the strewn field and also calibrated the footage which enabled photometry and subsequently the construction of the light curve of the meteor.  An initial search during June 18-23, 2018 found one meteorite (MP-01), now referred to as Motopi Pan.  Following revised astrometry, a new search was mounted with a team comprising members from the Botswana Geophysics Institute, Okavango Research Institute, Department of National Museum and Monuments (Botswana), the Department of Wildlife & National Parks, the Astronomical Society of Southern Africa (ASSA) and under the guidance of meteor astronomer Dr Peter Jenniskens from the SETI Institute.  The search during October 9-12, 2018 found an additional 22 fragments of asteroid 2018 LA, all collectively known as Motopi Pan, and including fragment MP-19 (image top left) found by Tim Cooper on October 12, 2018.  The discovery of these fragments now enabled a complete characterisation of the meteorites from asteroid 2018 LA, and determination of its origin in the solar system.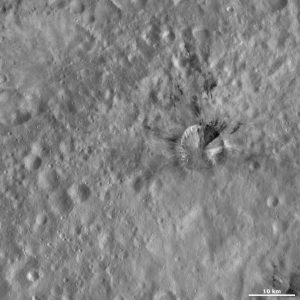 Left: Rubria Crater on asteroid 4 Vesta, probable source of the meteorites from 2018 LA.  Image credit NASA/JPL-Caltech/UCLA/MPS/DLR/IDA
Following extensive analysis using multiple techniques, these show the Motopi Pan meteorite to be a HED polymict breccia derived from howardite, eucrite, and diogenite lithologies.
The findings and pre-atmospheric orbit are consistent with an origin for Motopi Pan at asteroid 4 Vesta, possibly from the 10 km crater Rubria (left image) during an impact ~22 Ma ago.
The full scientific results and findings can be found in the Meteoritics and Planetary Science article.  The full story of the appearance of the bolide, eye-witness accounts, analysis of video footage to determine the strewn field location, measurement of the brightness of the meteor, and the October 2018 search for meteorites from asteroid 2018 LA will appear in the June issue of MNASSA.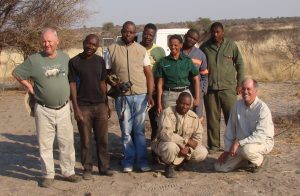 Members of the October 2018 search team which found an additional 22 fragments of the Motopi Pan meteorite.  Standing left to right Tim Cooper (ASSA), Oliver Moses (ORI), Mohutsiwe Gabadirwe (BGI), Thebe Kemosedile (ORI), Sarah Tsenene (DWNP), Kabelo Dikole (BGI), Mosarwa Babutsi (Botswana National Museum, Gaborone), kneeling Kagiso Kgetse (DWNP) and Peter Jenniskens (SETI Institute).  ASSA = Astronomical Society of Southern Africa, BGI = Botswana Geoscience Institute, ORI = Okavango Research Institute of the University of Botswana at Maun, DWNP = Department of Wildlife and National Parks.  Photo by team member Odirile Sempho.
---
January 2021
Hunting Spectres on the Moon
As the line of day & night (the terminator) falls across the Moon, sunlight glints off terrain of high relief while leaving lower regions bathed in shadow. This interplay of light and dark can create striking and short-lived features, known as "clair-obscur effects".
Some of these lunar moments have evocative names, such as "Cassini's Moon Maiden" and "Gruithuisen's Lunar City".
The visibility of these fleeting events depends on the underlying terrain, the angle of the Sun's light, and, of course, the visibility of the Moon from your location.
In the 2021 edition of the Sky Guide, the astronomical handbook for southern Africa, predictions are given for the visibility of the "Lunar X" (p 6). The effect occurs during each lunar month, but only the event on 2021 January 20 will be visible from South Africa.
Clair-obscur guru Dana Thompson has kindly also supplied information about spotting the "Curtiss Cross". This effect was first recorded on 1956 November 26, by astronomy enthusiast Robert E. Curtiss (New Mexico, USA). The distinct formation lies near the crater Copernicus (see accompanying photographs).
During 2021, there are three opportunities to witness this spectral sight: 2021 April 06, June 04, and November 28.
Happy hunting!
2021 Jan 07 09:08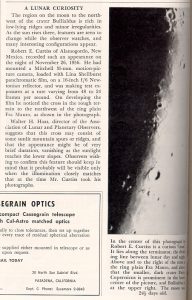 2021 Feb 05 23:42
2021 Mar 07 13:44
2021 Apr 06* 02:53
2021 May 05 15:04
2021 Jun 04* 02:28
2021 Jul 03 13:24
2021 Aug 02 00:20
2021 Aug 31 11:42
2021 Sep 29 23:48
2021 Oct 29 12:50
2021 Nov 28* 02:44
2021 Dec 27 17:14
Times in SAST
* Visible from         South Africa

---
21 December 2020 – Great Conjunction
Photo by Angus Burns, Newcastle KZN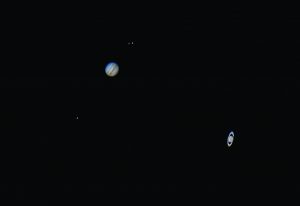 ---
14 December 2020 – Solar Eclipse
---
'Star of Bethlehem ' to light up SA skies – A bit of celestial wonder to end the year.
Prepare to witness a celestial event that's been dubbed the "star of Bethlehem" in our night skies in the coming weeks. Dr Daniel Cunnama, a science engagement astronomer at the South African Astronomical Observatory, confirmed that a spectacular conjunction of Jupiter and Saturn on 21st December will be visible in South Africa. "You can look to the West just after sunset and you will see them over the next two weeks".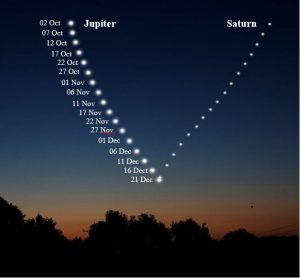 According to the BBC's Sky at Night magazine, the closest giant planetary "kiss" since 1623 will see gas giant planets Jupiter and Saturn just 0,06° apart.
"Our Solar System's two gas giant planets have been edging closer in recent months, and on Monday, December 21 Jupiter and Saturn will be less than a degree apart in the night sky," says the magazine.
The spectacular sight will be visible in clear skies across the world. Sky at Night said Jupiter and  Saturn won't really be close to each other at all. "In fact, on that date — which also just happens to be the date of the December solstice — Saturn will be about twice as far from Earth as Jupiter will be.
"However, our line of sight from Earth will suggest otherwise, as we all get to witness (clear skies allowing) the closest planetary conjunction of Jupiter and Saturn that most of us are ever going to see. "Saturn and Jupiter appear to pass close to each other, as seen from Earth, every 20 years, and when they do we call it a 'great conjunction'."
If you see it, count yourself lucky.
---
2021 Sky Guide Africa South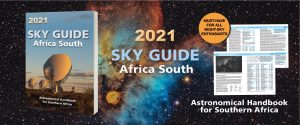 Now available from ASSA Centres or if you join as a country member
---
A Bit of Sky Guide History
The first edition of this Sky Guide was published in 1946 and was known as the Astronomical Handbook for Southern Africa. It consisted of 12 pages and was available for 1/6 from Juta and Co., Darling Street, Cape Town. Dr Richard Hugh Stoy of the Royal Observatory carried out most of the calculations, assisted by Mr Reginald de Kock, Dr Alan Cousins and other members of staff. In 1957 the book was redesigned and most of the calculations were performed by the Transvaal Centre's Computing Section. In 1962 the Handbook was sold for 25 cents, and the Royal Observatory was again responsible for generating the data. In 1974, Dr Tony Fairall at the UCT Astronomy Department took over as editor. The next 13 issues were edited by Mr Rupert Hurly until Ms Pat Booth took over in 1990. During 2003, a committee consisting of Auke Slotegraaf, Maciej Soltynski and Cliff Turk, assisted by many helpers, redesigned the Handbook. After much deliberation the name was changed to the Sky Guide.
---
Big 5 of the African Sky
Published 2017 June 23
The Big 5 of the African Sky – the five best deep-sky objects – are beautifully placed at this time of year for observing.



Find out more about the Big 5 and how to observe them and also how to qualify for this beautiful personalized mug!