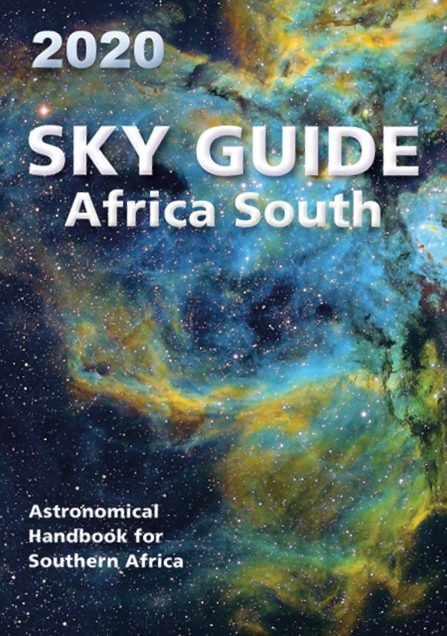 Astronomical Handbook for Southern Africa.

It presents a wealth of information about the Sun, Moon, planets, comets, meteors and bright stars in a clear and accessible way, accompanied by a number of diagrams to support the text.

The current edition (2020) is its 74th year of publication.
How to get your copy of the Sky Guide
ASSA Country Members receive a copy in the post as part of their membership benefits.
Members of ASSA Centres may approach their Centre committee to enjoy a reduced price for a copy for their own personal use (but not for onward selling).
Bulk orders of the Sky Guide (for bookshops and other re-sellers) may be negotiated directly with Lucille Bester at Struik Nature: (e-mail: lucilleb 

 randomstruik.co.za, phone: 021 460 5400).
What others have said…
"The Sky Guide has become an invaluable resource for anyone in South Africa who has an interest in astronomy, from the fledgling stargazer to the professional astronomer. The monthly dairy is very useful to keep up with events and the supporting diagrams are excellent and easy to interpret. The Sky Guide has plenty for everyone, including useful contacts and web links". – Dr David Buckley, SALT Project Scientist & Astronomy Operations Manager

"A splendidly presented guide to the southern sky, this compact, concise and thorough astronomical handbook is an invaluable resource for all sky-watchers, be they amateurs or professional. I particularly liked its guide through the richest regions of the southern Milky Way, and it has an excellent list of useful web sites". – Prof. P Charles, Former Director SAAO
Sky Guide Editors
A Slotegraaf (2011 – present)
I S Glass (2011 – present)
M G Soltynski (2003 – 2011)
W Trow (2010)
A B Jones (2006 – 2009)
A Slotegraaf (2003 – 2005)