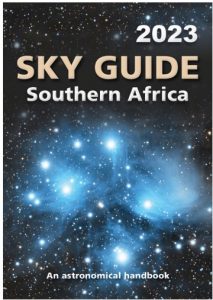 The Sky Guide is the astronomical handbook for Southern Africa, and is an invaluable practical resource for anyone who has even a passing interest in the night skies of southern Africa.
Prepared yearly by the Astronomical Society of Southern Africa as a reference work for the novice, amateur and professional astronomer, it continues the tradition of the well-established Astronomical Handbook for Southern Africa.
It presents a wealth of information about the Sun, Moon, planets, comets, meteors and bright stars in a clear and accessible way, accompanied by a number of diagrams to support the text.
The current edition (2023) is its 78th year of publication. A digital supplement to this edition is available for downloading
Digital Link for Sky Guide 2023
Sky Guide 2023 e-book is now available. Please click on the link to view: https://www.penguinrandomhouse.co.za/book/sky-guide-southern-africa-2023/9781775848127
How to get your copy of the Sky Guide
ASSA Country Members receive a copy in the post as part of their membership benefits.
Members of ASSA Centres may approach their Centre committee to enjoy a reduced price for a copy for their own personal use (but not for onward selling).
Bulk orders of the Sky Guide (for bookshops and other re-sellers) may be negotiated directly with Ms. A. Essop at aessop

penguinrandomhouse.co.za
What others have said…
"The Sky Guide has become an invaluable resource for anyone in South Africa who has an interest in astronomy, from the fledgling stargazer to the professional astronomer. The monthly dairy is very useful to keep up with events and the supporting diagrams are excellent and easy to interpret. The Sky Guide has plenty for everyone, including useful contacts and web links". – Dr David Buckley, SALT Project Scientist & Astronomy Operations Manager

"A splendidly presented guide to the southern sky, this compact, concise and thorough astronomical handbook is an invaluable resource for all sky-watchers, be they amateurs or professional. I particularly liked its guide through the richest regions of the southern Milky Way, and it has an excellent list of useful web sites". – Prof. P Charles, Former Director SAAO
A Bit of Sky Guide History
The first edition of this Sky Guide was published in 1946 and was known as the Astronomical Handbook for Southern Africa. It consisted of 12 pages and was available for 1/6 from Juta and Co., Darling Street, Cape Town. Dr Richard Hugh Stoy of the Royal Observatory carried out most of the calculations, assisted by Mr Reginald de Kock, Dr Alan Cousins and other members of staff. In 1957 the book was redesigned and most of the calculations were performed by the Transvaal Centre's Computing Section. In 1962 the Handbook was sold for 25 cents, and the Royal Observatory was again responsible for generating the data. In 1974, Dr Tony Fairall at the UCT Astronomy Department took over as editor. The next 13 issues were edited by Mr Rupert Hurly until Ms Pat Booth took over in 1990. During 2003, a committee consisting of Auke Slotegraaf, Maciej Soltynski and Cliff Turk, assisted by many helpers, redesigned the Handbook. After much deliberation the name was changed to the Sky Guide.
Sky Guide Editors
Auke Slotegraaf (2012 – present)
Dr Ian Glass (2012 – present)
Maciej Soltynski (2003 – 2011)
W Trow (2011)
A B Jones (2006 – 2009)
Auke Slotegraaf (2003 – 2005)