AR 1967 is back
The sunspot complex Active Region 1967 returns and is now known as AR 1990. (find out more)
---
Pallas – astrophotography challenge
Take up the challenge and track the 2nd largest asteroid in the Solar System, now excellently placed for observing. (find out more)
---
Acrux – Double star of the month
Acrux, the magnificent gem at the foot of the Southern Cross, is the double star for March  (find out more)
---
Recent sightings
Browse the "Report A Sighting" archives for ongoing investigations of recent sightings, including those by Grant B. (2014 Jan 02), Albie M., Isabel R. & Alex A. (2013 Dec 31), and Alison F. (2013 Dec 21). (browse archive)
---
Nova Cen 2013
Nova Centauri 2013 erupted early in 2013 December, and remained a naked-eye object until early this month. Follow the progress of the nova, which lies near beta Centauri, by grabbing a finder chart and making a brightness estimate. (find out more)
---
Fireball over Western Cape
On Monday morning, January 27, several people in the Western Cape reported a fireball, which was described by one observer as "the most amazing light I have ever witnessed in the sky." (find out more)
---
2014 Symposium
The 10th ASSA Symposium will be held from 25–27 September 2014 at the Hotel School of the Durban University of Technology. The theme for this year is "South African Astronomy – Beyond SALT and SKA" and the event is hosted by the ASSA Durban Centre. Find out more by vitising the ASSA Symposium 2014 website.
---
What's up this March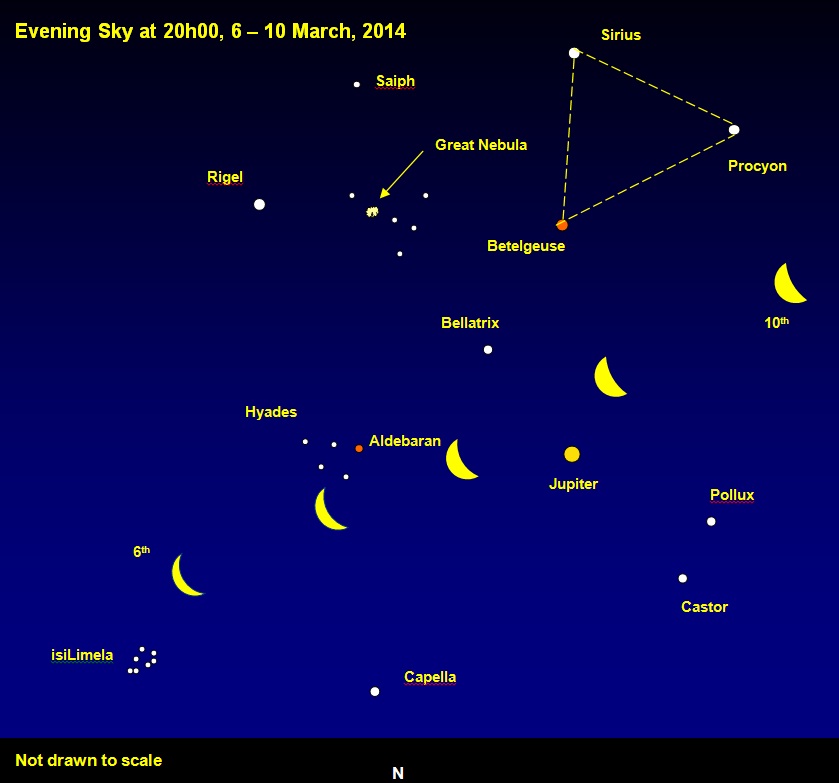 by Case Rijsdijk As February had no new Moon, and so like January, March has two! The month starts with a new Moon and the first crescent becoming visible the following evening. Full Moon follows on the 16th and the second new Moon falls on the 30th, b …
Find out more
An overview of upcoming celestial and ASSA-related events appears on the Events page. Details about these and other astronomical events will be found in the Sky Guide, the astronomical handbook for Southern Africa, available from leading book sellers.
---
2014 Highlights