Latest News
Get ready for the solar eclipse!
Published 2016 July 07, updated July 08

The partial eclipse of the Sun on Thursday, 2016 September 01, is the only solar eclipse visible from southern Africa this year. This rare event is a wonderful opportunity to witness the solar system in action, as the Moon glides in front of the Sun. Details appear in the 2016 SkyGuide and a comprehensive eclipse observing guide will be published on the website in due course.
Sky Guide competition winner!
Published 2016 Mar 25, updated April 08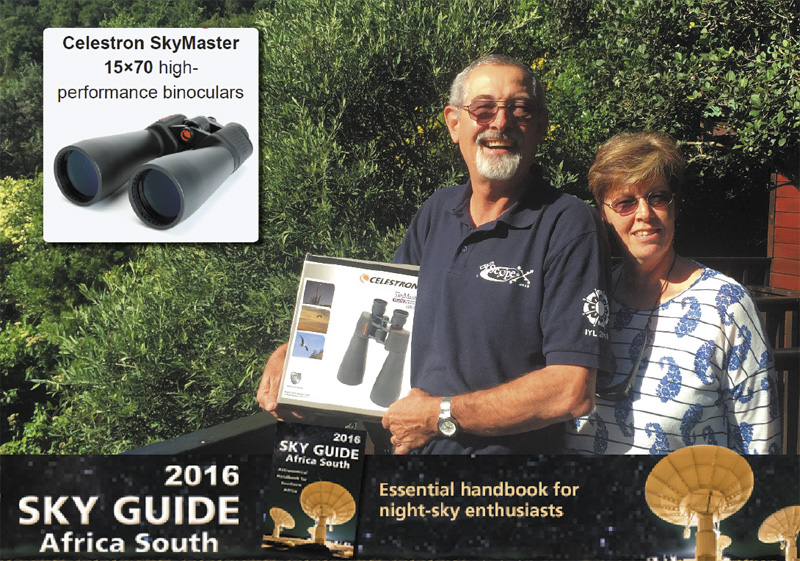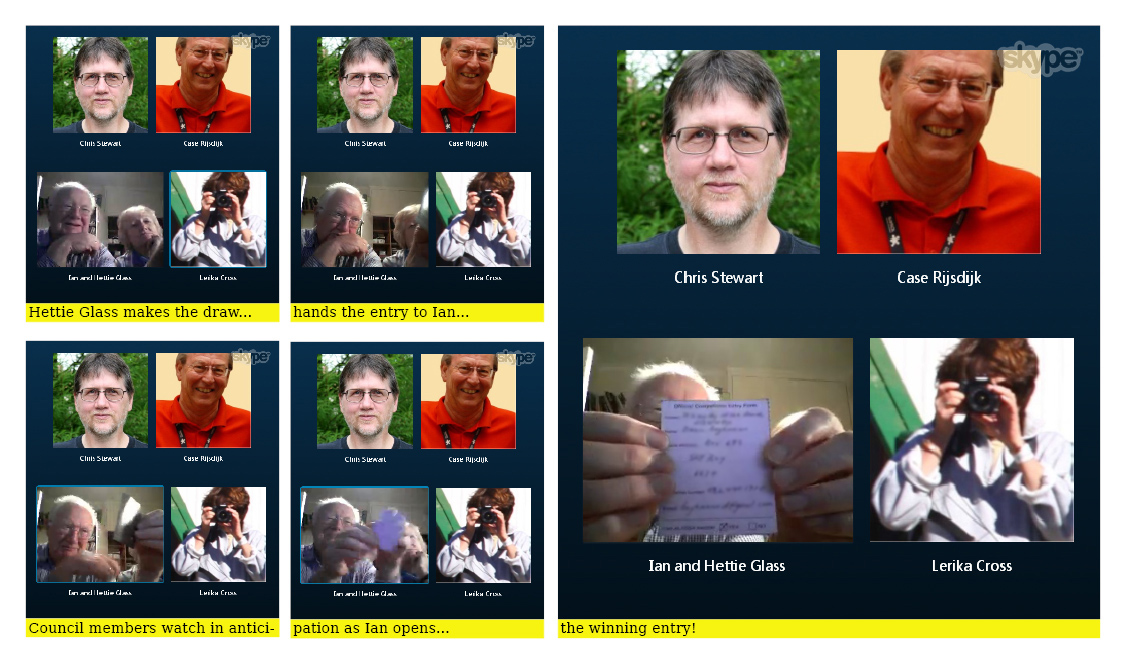 Council members met, via Skype, on Tuesday March 22 to witness the drawing of the winning entry for the Sky Guide 2016 Celestron binocular competition.
Correctly-answered entries were placed in a special container and then the charming Hettie Glass, Dr Ian Glass' wife, drew the winning ticket – watched via video call by Lerika Cross, Chris Stewart, Case Rijsdijk, and Auke Slotegraaf.
Sponsored by ASSA, the competition was open to anyone who purchased a Sky Guide: thus both ASSA members and non-members could take part. As it turned out, the winner is an ASSA member: congratulations to Deon Begemann (pictured above)!
---
Double-shadow season on Jupiter
Published 2016 Mar 01
During March and the early part of April 2016, several Jovian double-shadow events (when the shadows of two moons appear on Jupiter simultaneously) may be observed from southern Africa. The events occur on March 01, Mar 08, Mar 09, Mar 15, Mar 16, Mar 24, Mar 25, April 01, and Apr 09. The next visible event occurs on November 01. Details may be found in the Sky Guide, p.77, etc.
---
Six-Planet Extravaganza
Published 2016 Jan 25
To assist in viewing this rare and spectacular opportunity to witness the moon in the neighbourhood of all the naked-eye planets during the upcoming week, the esteemed Auke Slotegraaf has compiled a series of images of what to look for.
His guide can be found at his website, here.
---
Indonesia eclipse tour
Published 2016 Jan 08
Amar Sharma has been in contact with some ASSA members and invited any interested parties are invited. Itinerary, application information and cost are detailed on his website.
---
2016 Astronomy Undergraduate Scholarships
Published 2016 Jan 5
ASSA administers four scholarships on behalf of the Society and the Hartebeesthoek Radio Astronomy Observatory. Applications for 2016 funding should reach the Society by 1 February 2016. Details are available on the scholarships page.
---
2016 astronomical highlights not to miss