ASSA announces the Overbeek Medal for observational excellence
Published 2017 July 24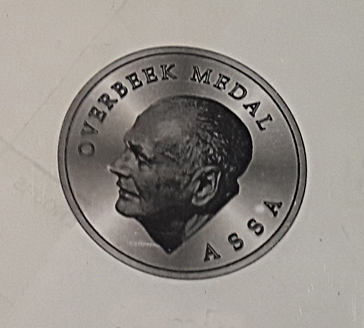 During a recent meeting of ASSA Council, the Overbeek Award was formalized.
The Overbeek Medal is to be given to any amateur ASSA member who has had his/her observational astronomy published in a recognized astronomical journal, including the Monthly Notes of the Astronomical Society of Southern Africa, MNASSA. (Read more)
---
Call for Observations: Meteors from comet C/2015 D4 (Borisov)
Published 2017 July 15
Southern African observers have a unique opportunity to confirm the existence of the potential meteor stream from comet C/2015 D4 (Borisov) on the early morning of 2017 July 29. The earth passes very close to the predicted centre of the 1-revolution stream at 02h22 SAST, at which time southern Africa is favourably placed to observe potential meteors from the comet's debris stream. The next opportunity with earth so close to the centre of the stream only occurs in 2029, when southern Africa is also favoured, but the comet is then a further twelve years past perihelion. Observations are requested this year to confirm any meteors from the parent comet which passed perihelion in its 700 year orbit most recently in 2014. Read more.
---
ASSA Annual General Meeting 2017
Published 2017 June 26
The ASSA AGM will be held on 2017 August 02 at 20:00 at the SAAO Auditorium, Observatory, Cape Town. The meeting will be hosted by the ASSA Cape Centre.
---
Big 5 of the African Sky
Published 2017 June 23
The Big 5 of the African Sky – the five best deep-sky objects – are beautifully placed at this time of year for observing.



Find out more about the Big 5 and how to observe them and also how to qualify for this beautiful personalized mug!
---
SkyGuide 2017 competition winners
Published 2017 March 21, Updated 2017 May 08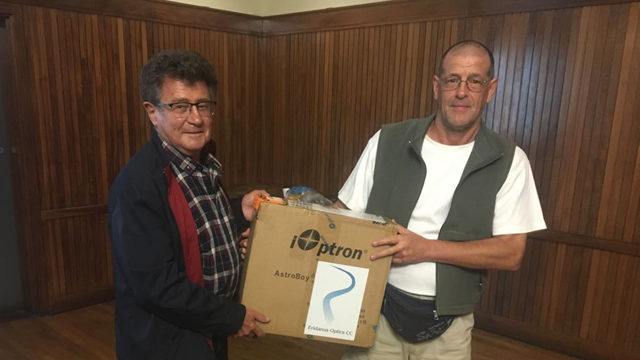 Competition winner G. H. van der Poll (right) received his prize from ASSA President Dr. Pierre de Villiers at an event held in Fish Hoek last week. The prize, an iOptron Astroboy I, was sponsored by Andrie van der Linde of Eridanus Optics.
The second-place winner, Lynn Koch of Malmesbury, will soon receive a selection of astronomy books sponsored by Struik Nature.
---
11th ASSA Symposium
Published 2017 May 1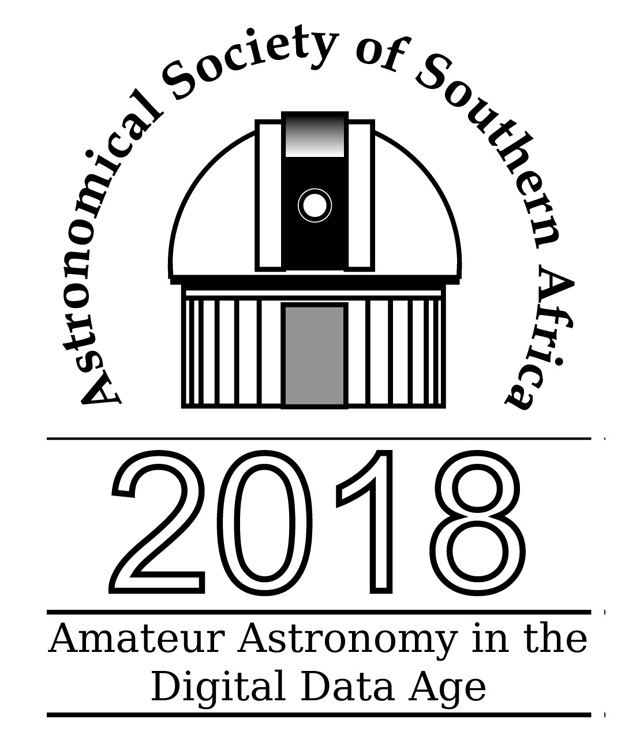 The 11th ASSA Symposium will be held in Cape Town from Thursday, March 08 to Sunday, March 11, 2018.
The theme – Amateur Astronomy in the Digital Data Age – has been chosen to promote the link between professional and amateur astronomers. The advance of astronomical technology with large surveys has opened new avenues where the amateur community can contribute to science: variable and double star work, comet discovery, supernova discovery, etc.
The four-day event starts with a "History of Astronomy in Southern Africa" session on Thursday, March 08. The "Astronomy in the Data Age" session starts on Friday, March 09. The symposium dinner is on Saturday, March 10.
Visit the ASSA Symposium 2018 website for further details. Past symposia are documented in the Historical Section's symposia archive.
---
2017 astronomical highlights not to miss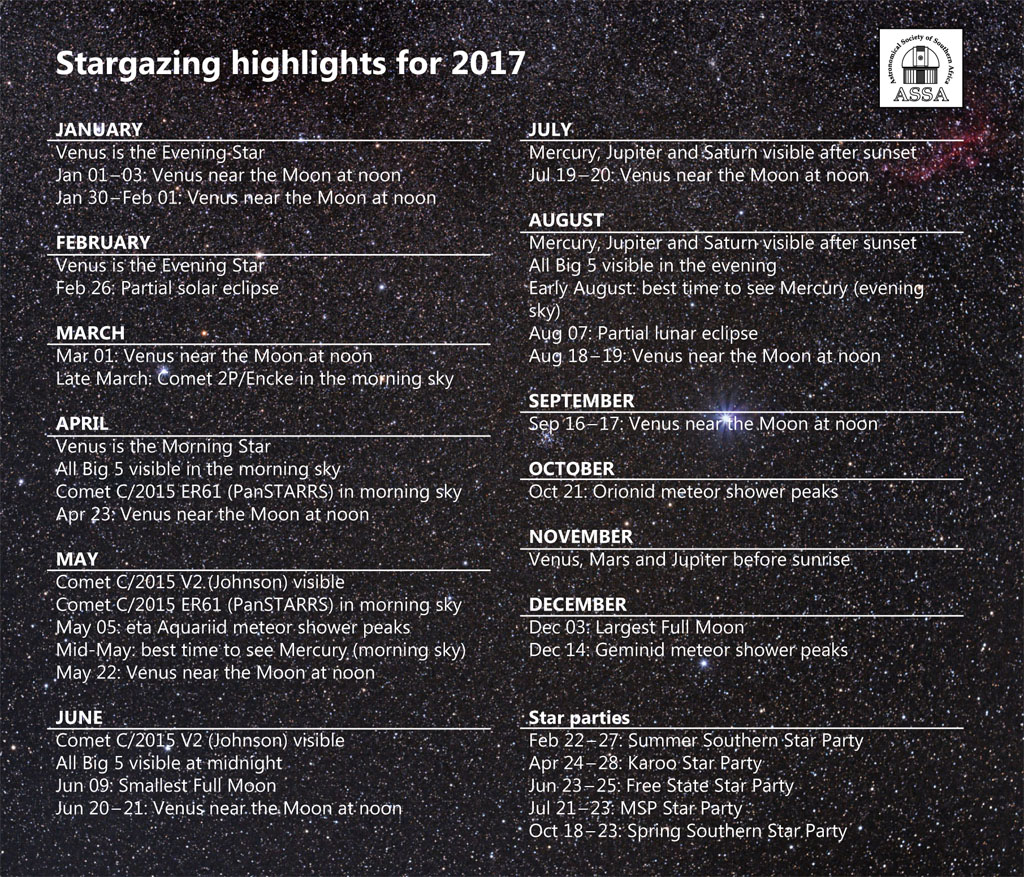 (Download a large 2-Meg version of this image)