ScopeX 2014
ScopeX – the nation's largest telescope and astronomy expo – was held on 13 September at the Military History Museum, Saxonwold. Photos after the jump.
---
InOMN 2014: Saturday September 06
Saturday, September 06, was International Observe the Moon Night (InOMN). Reports from several venues in South Africa after the jump – find out more.
---
Venus Rising
Venus Rising: South African Astronomical Beliefs, Customs and Observations, written by Dr Peter G. Alcock, examines traditional South African celestial knowledge, ranging from the Venda in the north to the /Xam San (Bushman) in the south. Topics discussed include eclipses, comets, meteors, place names, stories, poetry and riddles as well as other linguistic expressions which are linked to the heavens. Readers, reinforced with information contained in this book, are invited to scan the night skies from a truly South African perspective. The complete book is available as a free PDF on our website. (Find out more)
---
Michael (Mike) Gaylard
Dr. Mike Gaylard, Director of the Hartebeesthoek Radio Astronomy Observatory, passed away on Thursday, August 14. Dr Gaylard was instrumental in the conceptualisation of the African Very Long Baseline Interferometry (VLBI) Network (AVN), a vision to have a network of radio astronomy telescopes throughout Africa, and actively participated in and championed its development. He also headed the Science Awareness Outreach Programme at HartRAO, and was among the key people who helped get the National Astronomy and Space Science Programme (NASSP) started. (NRF Press Release)
---
2014 Symposium
The 10th ASSA Symposium, to be held in Durban, has been cancelled.
---
What's up this September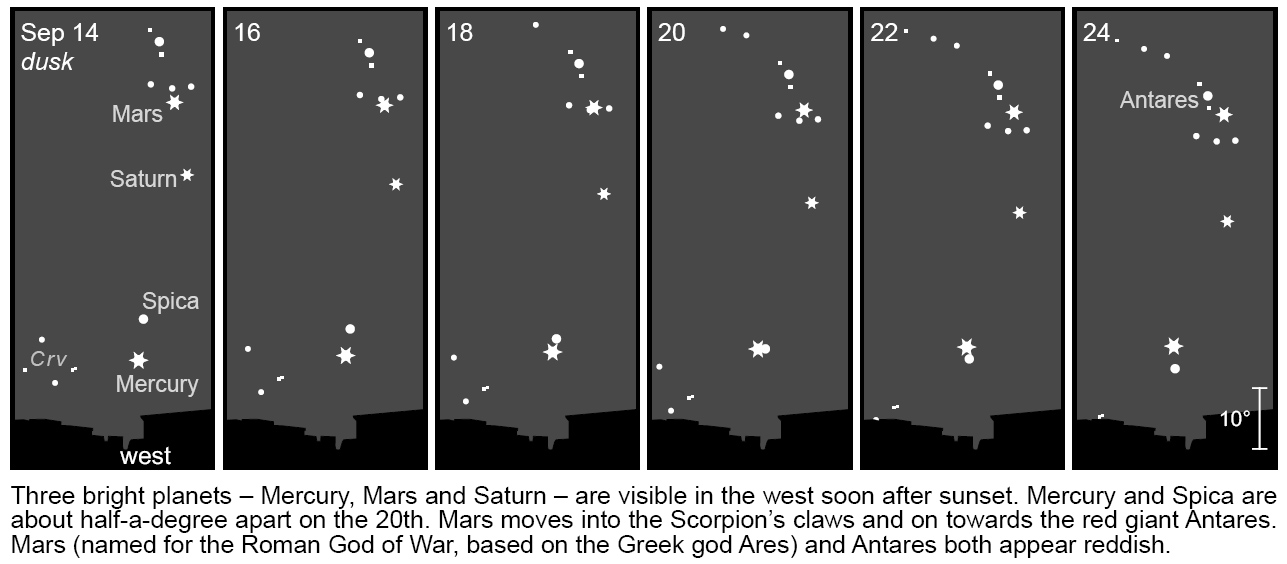 The month starts with a waxing crescent Moon that becomes full on the 9th with the new Moon following on the 24th. On the 1st the Moon occults, passes in front of, the star theta Librae at 19h45, look west from about 19h40 onwards, and a pair of binocu …
Find out more
An overview of upcoming celestial and ASSA-related events appears on the Events page. Details about these and other astronomical events will be found in the Sky Guide, the astronomical handbook for Southern Africa, available from leading book sellers.
---
Scholarships for 2014 awarded

The ASSA Scholarship for 2014 has been awarded to Freya Bovim, and the SAAO-ASSA Scholarships have been awarded to Verlon Etsebeth, Dean De Villiers and Francois Botha. (find out more)
---
2014 Highlights
---
Recent sightings
Browse the "Report A Sighting" archives for ongoing investigations of recent sightings, including those by Grant B. (2014 Jan 02), Albie M., Isabel R. & Alex A. (2013 Dec 31), and Alison F. (2013 Dec 21). (browse archive)