---
Do you have second-hand equipment for sale or for swap? Send an e-mail to secondhand@assa.saao.ac.za , to have your listing posted here. Include a FULL description of all components including their state, photos of everything assembled in a domestic setting, together with your name, e-mail and telephone number and the price.
Dear prospective purchasers, whilst our genuine community are generally nice people and we try our best to filter the adverts, please understand that there are scammers out there. If an offer looks too good to be true, it probably is. If you contact the purchaser, insist up front on a secure payment method (e.g. bank transfer) to be released on delivery/collection of the goods. For your own safety, do NOT agree to meet somewhere with a large wad of cash. If your engagement with a seller is "fishy", please inform us immediately so we can take the advert down.

---
March 2023
Celestron 8″ EdgeHD scope and accessories
Celestron 2″ and 1.25″ diagonals
Celestron Luminos 2.5 barlow for 1.25″ and 2″ eyepieces
Celestron 1.25″ plossl 40mm eyepiece
Televue 2″ Panoptic 35mm eyepiece
Celestron .7 focal reducer
T-Ring and T-Adapter for Canon EOS camera
Extra small and large dovetails
Finder scope 9×50
Dew shield
Excellent condition
Price R 50 000 neg
Equipment in Durban
John Gill – 083 378 8797 – John.Gill013@gmail.com
---
March 2023
Intes-Micro 152mm F5.9 Mak-Newt
Tripod and extensions
APM or Explore Scientific eyepieces – 20, 13, 9, 5.5 and 3.5 mm
2 x Laser finders and battery rechargers
Celestron 2-inch UHC filter
Orion padded telescope case
Orion laser collimator
Cheshite tube
The telescope is nearly perfectly collimated and I haven't had to recollimate in the last 7 years. The Intes-Micro 152mm scope has its original shipping papers and documentation from Orion (where it was marketed under the "Argonaut" badge.)
It gives a perfect Airy disc and partial first diffraction ring at 257x in the 3.5mm 100° eyepiece — at that power the Trapezium looks like the Pleiades to the naked eye.
The secondary is only 21% of the primary diameter, which makes it a superb lunar and planetary scope with minimal contrast loss due to secondary shadow.
It is a perfect startup system for a newcomer
Price R 24 000
Dana de Zoysa – 083 347 0856 – danadezoysa@gmail.com
---
March 2023
Meade  ETX-70 on computerised alt-az mount
Autostar controller
25mm eyepiece
Tripod in carry bag
Good condition
Location: Craighall Park area
Price R 4 000
Leo Ming – 083 378 0468 – leo@mingsmartialarts.co.za
---
February 2023
TS Photoline 80mm F6 APO Triplet Refractor & other equipment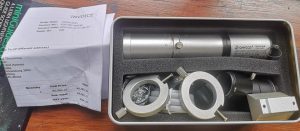 TS Photoline  80mm F6 APO Triplet Refractor – R 13 000
QHy5II guide-scope and accessories – R 1 500
QHY CCD QHY168C astro camera including adapter for Canon lenses – R 14 000
Additional accessories including dual narrrowband filters,
EQDIR cables for the Skywatcher, adapters, coma correctors and focal reducer
Bradley Thuynsma – 078 600 2749 –  Bradley.Thuynsma@Investec.co.za
---
February 2023
Celestron 114LCM Scope, "GoTo" Mount & Case
Includes 3 x eyepieces, barlow, external battery, laser pointer and travel case
Price is R 6 000 neg
Equipment in Durban
John Gill – 083 378 8797 – John.Gill013@gmail.com
---
December 2022
Celestron CPC 800 GPS XLT
Including accessories:
– Hand Control
– Star Diagonal
– T Adapter
– Eye Piece
– Finder scope
Price: offers on R 40 000
Pretoria / Johannesburg area
Peu Senyolo – 068 531 5133 – peusenyolo@gmail.com
---
October 2022
Celestron NexStar 130SLT Model #31145
Aperture 130 mm, Focal Length 650 mm, Focal Ratio f/5
On GoTo Alt-Azimuth mount
25mm &  9mm eyepieces
StarPointer Red-dot Finder scope
Excellent condition, as good as new, hardly used
Delivery not included – buyer to make arrangement
Location Bloemhof,  North West Area, on the border of Free state and NW Province
Courier Guy courier service available locally
Price R 6 000  or nearest cash offer
R Booysen – 072 252 1410 – omega45359@outlook.com
---
September 2022
William Optics Redcat 51
Here is a detailed list
https://docs.google.com/spreadsheets/d/1jjnkswRCTzrQfNhzNfFTg9oel1Kg9AqvWgCOwCsUCm0
Jay Fox – 062 530 9285 – naguil@gmail.com
---
September 2022
Celestron  4SE
Roller/carry case with styrofoam insert
Tripod
Eyepiece/Filter Accessory kit
4/6/9/15/32mm Plossl eyepieces
Barlow 2X
Elux 25mm Plossl
6 coloured filters
Moonfilter
45 degree erecting prism
Instruction Manuals
Software CD's
Sky Guide 2022 Southern Africa
Astronomy skills CD
Planisphere for South Africa
Telescope and accessories are in extremely good condition (as new)
Price R 17 000
Hugo Winterbach – 083 708 1210 – hugo.w@tiscali.co.za
---
July 2022
Celestron114 LCM
Excellent condition
Price R 5 500
Dr Andrew J Johnson – 083 209 1002 – jjohnny458@gmail.com
---
January 2022
Carton CST-80KU Telescope and Mount
Carton Astronomical Telescope Model CST-80KU, D= 80mm, F-1000mm for sale. Several different lens and attachments included. Good working order.
What offers?
Peter Hartley 082 801 9948 – peter.hartley@ingqolane.co.za
---
Send an e-mail to [ secondhand

assa.saao.ac.za ], with the details (including the seller name) of the items you are interested in. Your mail will be forwarded to the seller.
List your second-hand goods
Do you have second-hand equipment for sale or for swop? Send an e-mail to [ secondhand

assa.saao.ac.za ], to have your listing posted here.