Introduction
For two decades, starting in the late 1960's, the southern sky was patrolled by a dedicated South African comet-hunter named Jack Bennett. In addition to discovering comets with his 5-inch low-power refractor, Bennett also noticed many deep-sky objects that looked like comets. His list of comet-like southern deep-sky objects – shades of Messier – forms the basis for the Bennett Catalogue.
For each 20 objects you observe, the Society will issue a General Observer's Certificate in recognition of your work (given that the observations meet basic quality standards). Your observations will also be added to the DOC Deep Sky Database.
Download the Bennett Catalogue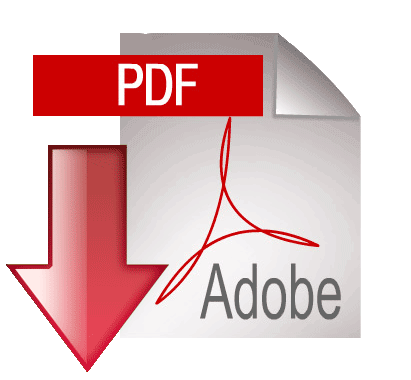 Download the Bennett Catalogue as a PDF (195 kB) or scroll down to the bottom of this page for the table.
How do I submit observations?
Send your observations by e-mail to [deepsky

assa.saao.ac.za] or by snail-mail to: [Angus Burns, Director: ASSA Deep Sky Observing Section, 14 Mount Grace, Somerset Ridge, Somerset West, 7130, South Africa]. Sketches submitted by snail-mail will not be returned unless you include a self-addressed & stamped envelope. When submitting sketches by e-mail, make sure they are scanned/photographed at good quality. Don't hesistate to contact me for further details. I look forward to receiving your deep sky observations!
How do I record an observation?
Guidelines for recording observations can be found in the "Deep Sky Observing Checklist". You may also want to take a look at the "Deep Sky Observer's Companion tutorial", a thorough introduction to deep sky observing techniques.
Who's completed the Bennett Challenge?
Auke Slotegraaf
Magda Streicher
Who is busy with the Bennett Challenge?
Richard Ford (ASSA Cape Centre)
Astrophotography challenge
The remarkable collage of images below was compiled by Dr. Barbara Cunow from her urban home in Pretoria. Taken with a DSLR on an undriven tripod, it shows that deep-sky astrophotography from the city, when combined with dedication and a bit of planning, is incredibly rewarding!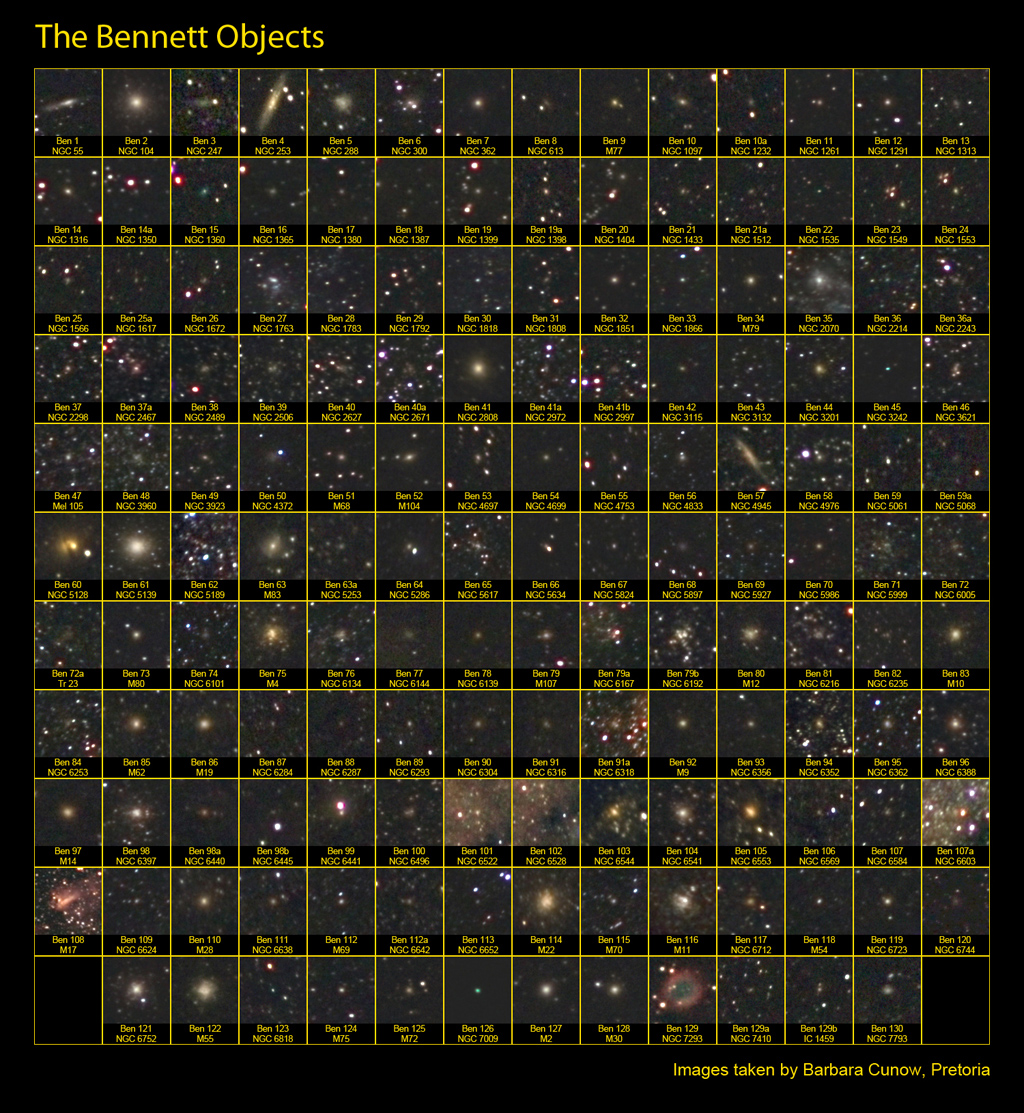 Barbara explained her technique in a talk given at the 2012 ASSA Symposium,
Jack Bennett's story
Bennett was born on April 6th, 1914 and passed away on May 30th, 1990. A long-standing member of the Astronomical Society of Southern Africa (ASSA), he was elected President in 1969. The Society awarded him the prestigious Gill Medal for services to astronomy in 1970 and in 1986 he received an Honorary Degree of Master of Science from the University of Witwatersrand. In 1989, at the recommendation of Rob McNaught of Siding Springs Observatory, the asteroid VD 4093 was named after him.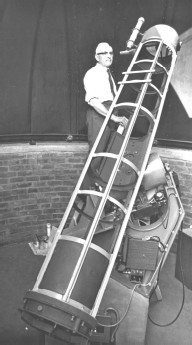 Jack Bennett at the eyepiece of the 12-inch Pretoria Centre telescope. It is housed in the Jack Bennett Oservatory which is on the grounds of the Christian Brothers College. On the reverse side of the original photo, in Bennett's handwriting, is the caption: "Pretoria Centre telescope, 1977, with antiquated observer".
Bennett was a skilled observer and in the spirit of Charles Messier drew up two lists of southern objects that appeared comet-like in his telescope. His first list (Bennett, 1969) was published four months before he discovered his first comet. The supplementary list (Bennett, 1974) was followed three months later by his second discovery.
In his 1969 Presidential Address to the Astronomical Society of Southern Africa, Bennett said: "As an aid to the recognition of comet-like objects in the Southern sky, and to help observers to eliminate them in comet searches, I have over the past five years compiled a list of 130 such objects visible south of the celestial equator. Nearly a hundred of these have been encountered under varying conditions in comet sweeps using a 5-inch short-focus refractor with a magnification of 21 diameters. The rest have been added, and duly observed with the same telescope, after consulting various sources, notably E. J. Hartung's first-rate book Astronomical Objects for Southern Telescopes which includes details of the appearance in telescopes of various apertures of all but 16 of the 130 objects."
Bennett's 1974 article "Some objects of interest in the southern sky" introduced 22 new comet-like objects "which had been observed (many of them repeatedly) in comet sweeps" since his first list was published.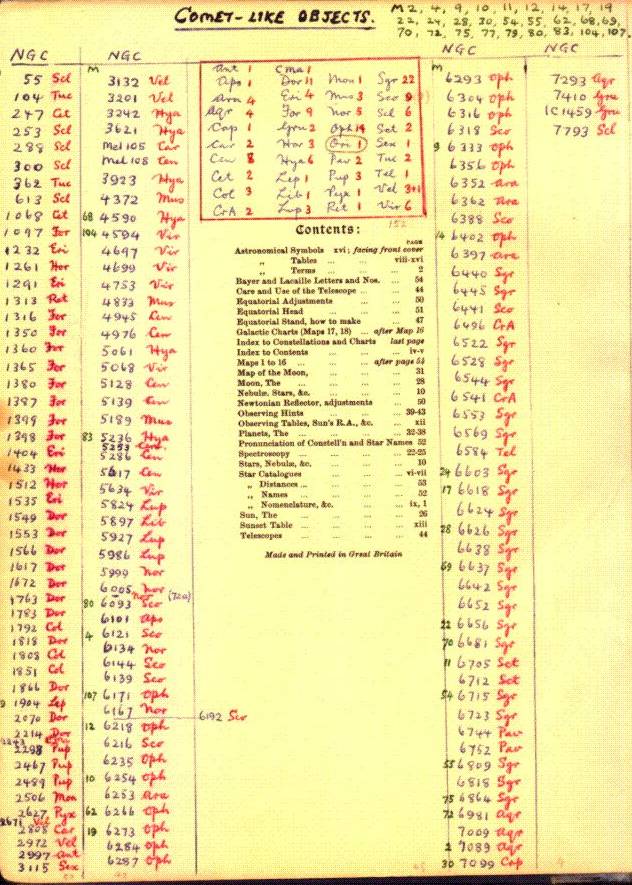 The contents page of Jack Bennett's copy of Norton's Star Atlas (1954) with annotations by him of 'comet-like objects'.
These two lists have been combined to form the Bennett Catalogue. Bennett's list reads like the "Who's Who of the Deep Sky". Among the 152 objects are the Tarantula, Omega Centauri, 47 Tucanae, Sombrero and the Silver Coin. Twenty-six of Messier's objects are listed. Bennett noted that including such bright objects may be unnecessary, but added: "it is surprising how easily even these can be mistaken for comets when seen at low altitudes and poor conditions."
Almost half the objects in Bennett's list are globular clusters, which makes sense since these bear a striking resemblance to comets. The constellation richest in Bennett objects is Sagittarius, followed by Ophiuchus. Bennett wrote that "the constellations Scorpio, Ophiuchus and Sagittarius… contain a bewildering variety of comet-like objects. These are mostly globular clusters and all except the largest defy attempts to distinguish them from tailless comets. This relatively small area of sky contains about a third of all the comet-like objects visible with small telescopes south of the equator."
Dorado also contains many Bennett's – five galaxies and six clusters and nebulae. The latter lie within the Large Magellanic Cloud which, according to Bennett, "should normally be avoided like the plague by anyone looking for comets. There are, however, a few objects on the outskirts of the Clouds which are regularly encountered in comet sweeps, and these have been included in the list, if only as a warning to the observer of the perils that lie ahead of him!"
References and further reading
Bennett, J. C. (1969) Presidential address to the Astronomical Society of Southern Africa, Mon. Notes Astron. Soc. S. Afr., 28(8, August) [ADS article online]
Bennett, J. C. (1974) "Some objects of interest in the southern sky" Mon. Notes Astron. Soc. S. Afr., 33(8,August), 107. [ADS article online]
Campos, J. A. (1990) "Obituary: Jack Bennett" Mon. Notes Astron. Soc. S. Afr., 49 (9&10), 113- 115.
Marsden, B. (1990) "Jack Bennett – An appreciation" Mon. Notes Astron. Soc. S. Afr., 49 (9&10), 115. [ADS article online]
Jones, J. S. (1994) "Jack Bennett, 6 April 1914 – 30 May 1990". Quarterly Journal of the Royal Astronomical Society, 35(3), 353. [ADS article online]
---
The Jack Bennett Catalogue
| | | | | | | | |
| --- | --- | --- | --- | --- | --- | --- | --- |
| Bennett number | Other catalogue designation | RA (h) | RA (m) | RA (s) | Dec (deg) | Dec (min) | Con |
| Ben 1 | NGC 55 | 0 | 14 | 54 | –39 | 11 | Scl |
| Ben 2 | NGC 104 | 0 | 24 | 06 | –72 | 05 | Tuc |
| Ben 3 | NGC 247 | 0 | 47 | 06 | –20 | 46 | Cet |
| Ben 4 | NGC 253 | 0 | 47 | 36 | –25 | 17 | Scl |
| Ben 5 | NGC 288 | 0 | 52 | 48 | –26 | 35 | Scl |
| Ben 6 | NGC 300 | 0 | 54 | 54 | –37 | 41 | Scl |
| Ben 7 | NGC 362 | 1 | 03 | 12 | –70 | 51 | Tuc |
| Ben 8 | NGC 613 | 1 | 34 | 18 | –29 | 25 | Scl |
| Ben 9 | NGC 1068 | 2 | 42 | 42 | –00 | 01 | Cet |
| Ben 10 | NGC 1097 | 2 | 46 | 18 | –30 | 17 | For |
| Ben 10a | NGC 1232 | 3 | 09 | 48 | –20 | 35 | Eri |
| Ben 11 | NGC 1261 | 3 | 12 | 18 | –55 | 13 | Hor |
| Ben 12 | NGC 1291 | 3 | 17 | 18 | –41 | 08 | Eri |
| Ben 13 | NGC 1313 | 3 | 18 | 18 | –66 | 30 | Ret |
| Ben 14 | NGC 1316 | 3 | 22 | 42 | –37 | 12 | For |
| Ben 14a | NGC 1350 | 3 | 31 | 06 | –33 | 38 | For |
| Ben 15 | NGC 1360 | 3 | 33 | 18 | –25 | 51 | For |
| Ben 16 | NGC 1365 | 3 | 33 | 36 | –36 | 08 | For |
| Ben 17 | NGC 1380 | 3 | 36 | 30 | –34 | 59 | For |
| Ben 18 | NGC 1387 | 3 | 37 | 00 | –35 | 31 | For |
| Ben 19 | NGC 1399 | 3 | 38 | 30 | –35 | 27 | For |
| Ben 19a | NGC 1398 | 3 | 38 | 54 | –26 | 20 | For |
| Ben 20 | NGC 1404 | 3 | 38 | 54 | –35 | 35 | Eri |
| Ben 21 | NGC 1433 | 3 | 42 | 00 | –47 | 13 | Hor |
| Ben 21a | NGC 1512 | 4 | 03 | 54 | –43 | 21 | Hor |
| Ben 22 | NGC 1535 | 4 | 14 | 12 | –12 | 44 | Eri |
| Ben 23 | NGC 1549 | 4 | 15 | 42 | –55 | 36 | Dor |
| Ben 24 | NGC 1553 | 4 | 16 | 12 | –55 | 47 | Dor |
| Ben 25 | NGC 1566 | 4 | 20 | 00 | –54 | 56 | Dor |
| Ben 25a | NGC 1617 | 4 | 31 | 42 | –54 | 36 | Dor |
| Ben 26 | NGC 1672 | 4 | 45 | 42 | –59 | 15 | Dor |
| Ben 27 | NGC 1763 | 4 | 56 | 48 | –66 | 24 | Dor |
| Ben 28 | NGC 1783 | 4 | 58 | 54 | –66 | 00 | Dor |
| Ben 29 | NGC 1792 | 5 | 05 | 12 | –37 | 59 | Col |
| Ben 30 | NGC 1818 | 5 | 04 | 12 | –66 | 24 | Dor |
| Ben 31 | NGC 1808 | 5 | 07 | 42 | –37 | 31 | Col |
| Ben 32 | NGC 1851 | 5 | 14 | 06 | –40 | 03 | Col |
| Ben 33 | NGC 1866 | 5 | 13 | 30 | –65 | 28 | Dor |
| Ben 34 | NGC 1904 | 5 | 24 | 30 | –24 | 33 | Lep |
| Ben 35 | NGC 2070 | 5 | 38 | 36 | –69 | 05 | Dor |
| Ben 36 | NGC 2214 | 6 | 12 | 48 | –68 | 16 | Dor |
| Ben 36a | NGC 2243 | 6 | 29 | 48 | –31 | 17 | CMa |
| Ben 37 | NGC 2298 | 6 | 49 | 00 | –36 | 00 | Pup |
| Ben 37a | NGC 2467 | 7 | 52 | 36 | –26 | 23 | Pup |
| Ben 38 | NGC 2489 | 7 | 56 | 12 | –30 | 04 | Pup |
| Ben 39 | NGC 2506 | 8 | 12 | 00 | –10 | 47 | Mon |
| Ben 40 | NGC 2627 | 8 | 37 | 18 | –29 | 57 | Pyx |
| Ben 40a | NGC 2671 | 8 | 46 | 12 | –41 | 53 | Vel |
| Ben 41 | NGC 2808 | 9 | 12 | 00 | –64 | 52 | Car |
| Ben 41a | NGC 2972 | 9 | 40 | 18 | –50 | 20 | Vel |
| Ben 41b | NGC 2997 | 9 | 45 | 36 | –31 | 11 | Ant |
| Ben 42 | NGC 3115 | 10 | 05 | 12 | –07 | 43 | Sex |
| Ben 43 | NGC 3132 | 10 | 07 | 00 | –40 | 26 | Vel |
| Ben 44 | NGC 3201 | 10 | 17 | 36 | –46 | 25 | Vel |
| Ben 45 | NGC 3242 | 10 | 24 | 48 | –18 | 38 | Hya |
| Ben 46 | NGC 3621 | 11 | 18 | 18 | –32 | 49 | Hya |
| Ben 47 | Mel 105 | 11 | 19 | 39 | –63 | 30 | Car |
| Ben 48 | NGC 3960 | 11 | 50 | 52 | –55 | 41 | Cen |
| Ben 49 | NGC 3923 | 11 | 51 | 00 | –28 | 48 | Hya |
| Ben 50 | NGC 4372 | 12 | 25 | 48 | –72 | 40 | Mus |
| Ben 51 | NGC 4590 | 12 | 39 | 30 | –26 | 45 | Hya |
| Ben 52 | NGC 4594 | 12 | 40 | 00 | –11 | 37 | Vir |
| Ben 53 | NGC 4697 | 12 | 48 | 36 | –05 | 48 | Vir |
| Ben 54 | NGC 4699 | 12 | 49 | 00 | –08 | 40 | Vir |
| Ben 55 | NGC 4753 | 12 | 52 | 24 | –01 | 12 | Vir |
| Ben 56 | NGC 4833 | 12 | 59 | 36 | –70 | 53 | Mus |
| Ben 57 | NGC 4945 | 13 | 05 | 24 | –49 | 28 | Cen |
| Ben 58 | NGC 4976 | 13 | 08 | 36 | –49 | 30 | Cen |
| Ben 59 | NGC 5061 | 13 | 18 | 06 | –26 | 50 | Hya |
| Ben 59a | NGC 5068 | 13 | 18 | 54 | –21 | 02 | Vir |
| Ben 60 | NGC 5128 | 13 | 25 | 30 | –43 | 01 | Cen |
| Ben 61 | NGC 5139 | 13 | 26 | 48 | –47 | 29 | Cen |
| Ben 62 | NGC 5189 | 13 | 33 | 30 | –65 | 59 | Mus |
| Ben 63 | NGC 5236 | 13 | 37 | 00 | –29 | 52 | Hya |
| Ben 63a | NGC 5253 | 13 | 39 | 54 | –31 | 39 | Cen |
| Ben 64 | NGC 5286 | 13 | 46 | 24 | –51 | 22 | Cen |
| Ben 65 | NGC 5617 | 14 | 29 | 48 | –60 | 43 | Cen |
| Ben 66 | NGC 5634 | 14 | 29 | 36 | –05 | 59 | Vir |
| Ben 67 | NGC 5824 | 15 | 04 | 00 | –33 | 04 | Lup |
| Ben 68 | NGC 5897 | 15 | 17 | 24 | –21 | 01 | Lib |
| Ben 69 | NGC 5927 | 15 | 28 | 00 | –50 | 40 | Lup |
| Ben 70 | NGC 5986 | 15 | 46 | 06 | –37 | 47 | Lup |
| Ben 71 | NGC 5999 | 15 | 52 | 12 | –56 | 28 | Nor |
| Ben 72 | NGC 6005 | 15 | 55 | 48 | –57 | 26 | Nor |
| Ben 72a | Trumpler 23 | 16 | 01 | 30 | –53 | 32 | Nor |
| Ben 73 | NGC 6093 | 16 | 17 | 00 | –22 | 59 | Sco |
| Ben 74 | NGC 6101 | 16 | 25 | 48 | –72 | 12 | Aps |
| Ben 75 | NGC 6121 | 16 | 23 | 36 | –26 | 32 | Sco |
| Ben 76 | NGC 6134 | 16 | 27 | 42 | –49 | 09 | Nor |
| Ben 77 | NGC 6144 | 16 | 27 | 18 | –26 | 02 | Sco |
| Ben 78 | NGC 6139 | 16 | 27 | 42 | –38 | 51 | Sco |
| Ben 79 | NGC 6171 | 16 | 32 | 30 | –13 | 03 | Oph |
| Ben 79a | NGC 6167 | 16 | 34 | 24 | –49 | 36 | Nor |
| Ben 79b | NGC 6192 | 16 | 40 | 18 | –43 | 22 | Sco |
| Ben 80 | NGC 6218 | 16 | 47 | 12 | –01 | 57 | Oph |
| Ben 81 | NGC 6216 | 16 | 49 | 24 | –44 | 44 | Sco |
| Ben 82 | NGC 6235 | 16 | 53 | 24 | –22 | 11 | Oph |
| Ben 83 | NGC 6254 | 16 | 57 | 06 | –04 | 06 | Oph |
| Ben 84 | NGC 6253 | 16 | 59 | 06 | –52 | 43 | Ara |
| Ben 85 | NGC 6266 | 17 | 01 | 12 | –30 | 07 | Oph |
| Ben 86 | NGC 6273 | 17 | 02 | 36 | –26 | 16 | Oph |
| Ben 87 | NGC 6284 | 17 | 04 | 30 | –24 | 46 | Oph |
| Ben 88 | NGC 6287 | 17 | 05 | 12 | –22 | 42 | Oph |
| Ben 89 | NGC 6293 | 17 | 10 | 12 | –26 | 35 | Oph |
| Ben 90 | NGC 6304 | 17 | 14 | 30 | –29 | 28 | Oph |
| Ben 91 | NGC 6316 | 17 | 16 | 36 | –28 | 08 | Oph |
| Ben 91a | NGC 6318 | 17 | 17 | 48 | –39 | 27 | Sco |
| Ben 92 | NGC 6333 | 17 | 19 | 12 | –18 | 31 | Oph |
| Ben 93 | NGC 6356 | 17 | 23 | 36 | –17 | 49 | Oph |
| Ben 94 | NGC 6352 | 17 | 25 | 30 | –48 | 25 | Ara |
| Ben 95 | NGC 6362 | 17 | 31 | 54 | –67 | 03 | Ara |
| Ben 96 | NGC 6388 | 17 | 36 | 18 | –44 | 44 | Sco |
| Ben 97 | NGC 6402 | 17 | 37 | 36 | –03 | 15 | Oph |
| Ben 98 | NGC 6397 | 17 | 40 | 42 | –53 | 40 | Ara |
| Ben 98a | NGC 6440 | 17 | 48 | 54 | –20 | 22 | Sgr |
| Ben 98b | NGC 6445 | 17 | 49 | 12 | –20 | 01 | Sgr |
| Ben 99 | NGC 6441 | 17 | 50 | 12 | –37 | 03 | Sco |
| Ben 100 | NGC 6496 | 17 | 59 | 00 | –44 | 16 | CrA |
| Ben 101 | NGC 6522 | 18 | 03 | 36 | –30 | 02 | Sgr |
| Ben 102 | NGC 6528 | 18 | 04 | 48 | –30 | 03 | Sgr |
| Ben 103 | NGC 6544 | 18 | 07 | 18 | –25 | 00 | Sgr |
| Ben 104 | NGC 6541 | 18 | 08 | 00 | –43 | 42 | CrA |
| Ben 105 | NGC 6553 | 18 | 09 | 18 | –25 | 54 | Sgr |
| Ben 106 | NGC 6569 | 18 | 13 | 36 | –31 | 50 | Sgr |
| Ben 107 | NGC 6584 | 18 | 18 | 36 | –52 | 13 | Tel |
| Ben 107a | NGC 6603 | 18 | 18 | 24 | –18 | 25 | Sgr |
| Ben 108 | NGC 6618 | 18 | 20 | 48 | –16 | 11 | Sgr |
| Ben 109 | NGC 6624 | 18 | 23 | 42 | –30 | 22 | Sgr |
| Ben 110 | NGC 6626 | 18 | 24 | 30 | –24 | 52 | Sgr |
| Ben 111 | NGC 6638 | 18 | 30 | 54 | –25 | 30 | Sgr |
| Ben 112 | NGC 6637 | 18 | 31 | 24 | –32 | 21 | Sgr |
| Ben 112a | NGC 6642 | 18 | 31 | 54 | –23 | 29 | Sgr |
| Ben 113 | NGC 6652 | 18 | 35 | 48 | –32 | 59 | Sgr |
| Ben 114 | NGC 6656 | 18 | 36 | 24 | –23 | 54 | Sgr |
| Ben 115 | NGC 6681 | 18 | 43 | 12 | –32 | 18 | Sgr |
| Ben 116 | NGC 6705 | 18 | 51 | 06 | –06 | 16 | Sct |
| Ben 117 | NGC 6712 | 18 | 53 | 06 | –08 | 42 | Sct |
| Ben 118 | NGC 6715 | 18 | 55 | 06 | –30 | 29 | Sgr |
| Ben 119 | NGC 6723 | 18 | 59 | 36 | –36 | 38 | Sgr |
| Ben 120 | NGC 6744 | 19 | 09 | 48 | –63 | 51 | Pav |
| Ben 121 | NGC 6752 | 19 | 10 | 54 | –59 | 59 | Pav |
| Ben 122 | NGC 6809 | 19 | 40 | 00 | –30 | 58 | Sgr |
| Ben 123 | NGC 6818 | 19 | 44 | 00 | –14 | 09 | Sgr |
| Ben 124 | NGC 6864 | 20 | 06 | 06 | –21 | 55 | Sgr |
| Ben 125 | NGC 6981 | 20 | 53 | 30 | –12 | 32 | Aqr |
| Ben 126 | NGC 7009 | 21 | 04 | 12 | –11 | 22 | Aqr |
| Ben 127 | NGC 7089 | 21 | 33 | 30 | –00 | 49 | Aqr |
| Ben 128 | NGC 7099 | 21 | 40 | 24 | –23 | 11 | Cap |
| Ben 129 | NGC 7293 | 22 | 29 | 36 | –20 | 48 | Aqr |
| Ben 129a | NGC 7410 | 22 | 55 | 00 | –39 | 40 | Gru |
| Ben 129b | IC 1459 | 22 | 57 | 00 | –36 | 28 | Gru |
| Ben 130 | NGC 7793 | 23 | 57 | 48 | –32 | 35 | Gru |
(Co-ordinates are in J 2000.0)