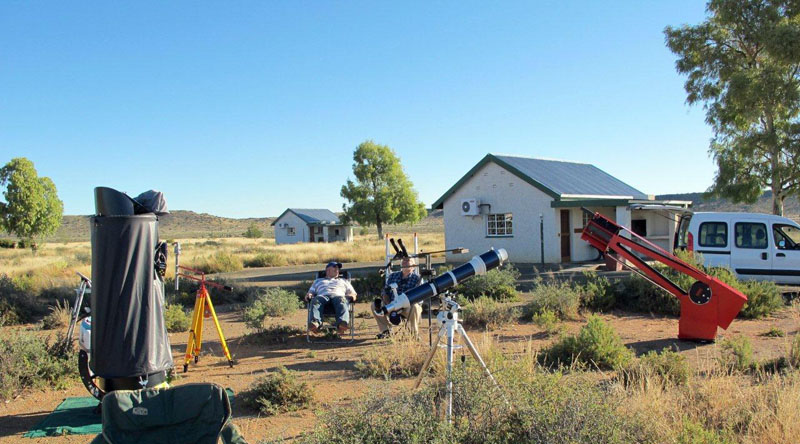 The ASSA / ESSA Star Party is held from time to time in Magaliesburg. It is an informal gathering of members of the ESSA (Exploration Society of Southern Africa), ASSA Johannesburg Centre, ASSA Pretoria Centre, and the Telescope Making class. It is advertised via the communication channels of those communities.
The Free State Star Party will be held from June 23 – 25 on the guest farm Gansvlei, near Brandfort, about 50 km from Bloemfontein. There is accommodation for 40 people (mostly sharing) and there are numerous guest houses in the vicinity. Contact: [ assabfn@gmail.com ] [ www.assabfn.co.za ]
The Mountain Sanctuary Park Star Party is hosted by the West Rand Astronomy Club. It is held in a secluded private nature reserve between Hartbeespoort Dam and Rustenburg, North West province. The format includes two nights of stargazing, talks, demonstrations, activities for kids, and a morning market. The 2017 star party will be held from July 21 – 23. Booking is essential. Contact: Kenny Nevill (082 335-1983) [ kennynev@telkomsa.net ]
The National Karoo Star Party is organized by ASSA Pretoria Centre members Johan Smit and Danie Barnardo, and is held on the Kambro guest farm, 20 km north of Britstown. The town is centrally located, 250 km south of Kimberley on the N12, exactly halfway between Cape Town and Johannesburg. The 2017 KSP will be held from Monday April 24 to Friday April 28. Booking is essential [ http://www.pretoria-astronomy.co.za ].
The Northern Star Party is held near Bela-Bela in Limpopo province from time to time and is organized by the ASSA Pretoria Centre [ http://www.pretoria-astronomy.co.za ].
ScopeX, hosted by members of the ASSA, is an annual telescope and astronomy expo held at the Military History Museum in Johannesburg. The format includes exhibitions of self-made telescopes, sundials, astrophotos, etc., demonstrations of mirror making, talks, science shows, a camera obscura, student science exhibitions and a star show. The date for ScopeX 2017 is to be finalized. [ http://www.scopex.co.za ]
The Southern Star Party is held twice a year in the Western Cape, usually near Bonnievale. Activities include observing, talks, workshops, and the popular Astro Pub Quiz. The 2017 Summer SSP will be from February 22 – 27, and the Spring SSP will be from October 18 – 23. From time to time, smaller observing gatherings are also hosted. Booking is essential [ info@southernstarparty.org ] [ http://www.southernstarparty.org ]
Star Camp Mavuradonha is arranged by the Astronomical Society of Harare at the Mavuradonha Wilderness Camp Site, a dark-sky location accessible by tar road 200 km north of Harare on the edge of the Zambezi escarpment.The date for 2017 is to be finalized.
Contact: Peter Morris (077 230 8172) [ petermorris.zw@gmail.com ]