NEXSTAR 102SLT COMPUTERIZED REFRACTOR TELESCOPE
(01 Aug 2017)
Two eyepieces (25mm & 9mm); StarPointer finderscope; tripod and accessory tray; astronomy software; computerized Altazimuth mount and handheld control. Great condition. R7,000.
Nelson Alvares
T:0725750808
nelson dot avares at gmail dot com
Starlight Xpress SXVR-H674C camera
(18 Jul 2017)
for sale in mint condition. This camera uses a Sony
ICX674ALG EXview CCD chip with 1940 x 1460 x 4.54uM pixels in a 8.8 x 6.63mm active area.
It has extremely low dark current. I have never taken Darks with it. Moving on to a Mono
camera so have to sell. Bought from Mike Hattey at Starlight Xpress in UK for $2350 and hand carried back to SA. Yours for $1800 ( R23000 ). Roy Meyer. CELL 082 560-3064
SBIG ST-8300C imaging device
(04 Jul 2017)
Name: Brandon Webb
Email: brandon.webb.1980@gmail.com
Tel: 083 379 8435
Location: Johannesburg, South Africa
Asking Price: R15000
Condition: :Like New
"The SBIG ST-8300C (color) cameras are based on ON Semi's KAF-8300, 8.3 megapixel, full frame CCD. This CCD array has 3326 x 2504 pixels at 5.4 microns making it ideal for both short fast optics in high resolution (unbinned) mode, and for longer focal lengths it can be binned binned 2×2 or 3×3. The CCD has both antiblooming and microlens technology to improve the effective Quantum Efficiency of the sensor. As a result it can be used in a wide variety of optical configurations. The camera electronics are USB 2.0 for fast download rates and rapid focus mode. The small light body accepts both C-mount and standard 35mm Nikon camera lenses. A built-in mechanical shutter is included for automatic dark frames. In addition to its imaging capabilities, it can also be used as a guider."
Celestron CPC 1100
(04 Jul 2017)
Celestron CPC1100 Telescope with a custom made case on wheels, tripod, Celestron Power tank & Celestron 1.25 inch colour filters. It's in immaculate condition – only used three times. Would like to sell for R32 000.
Location: Somerset West
Contact Charlie on 082 600 2270
Celestron CGEM Goto astronomy mount – R19 800
16 June 2017
I have a Celestron CGEM Goto mount with its tripod for sale. The mount is in excellent condition. There are some minor chips and scratches from normal wear on the dovetail saddle and counterweight.
My guiding with Phd normally gives a total RMS in the region of 1 arc seconds per pixel. In other words, the mount functions as new.
I use the mount with a 16kg telescope, however, the specifications are for up to 20kg telescopes.
These mounts go for R38 000 to R41 000 when purchased new.
Located in Pretoria North for pick up or viewing. Free shipping can be arranged if in Bloemfontein as I go there on a regular basis.
Contact: Brett du Preez (082 771 6278)

Orion Skyview Pro 127mm EQ Maksutov-Cassegrain Telescope (boxed kit set)
24 Apr 2017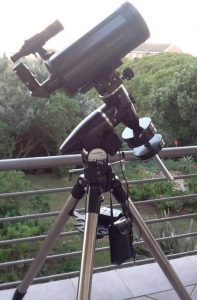 Including view finder, electronic controller and sundry lenses
Slight rust damage on tripod, otherwise well looked after and in mint condition
R10k (includes courier costs within RSA only)
Contact Shelley at 072 778 0148 (after hours only please)
---
Levenhuk 110-mm apo refractor for sale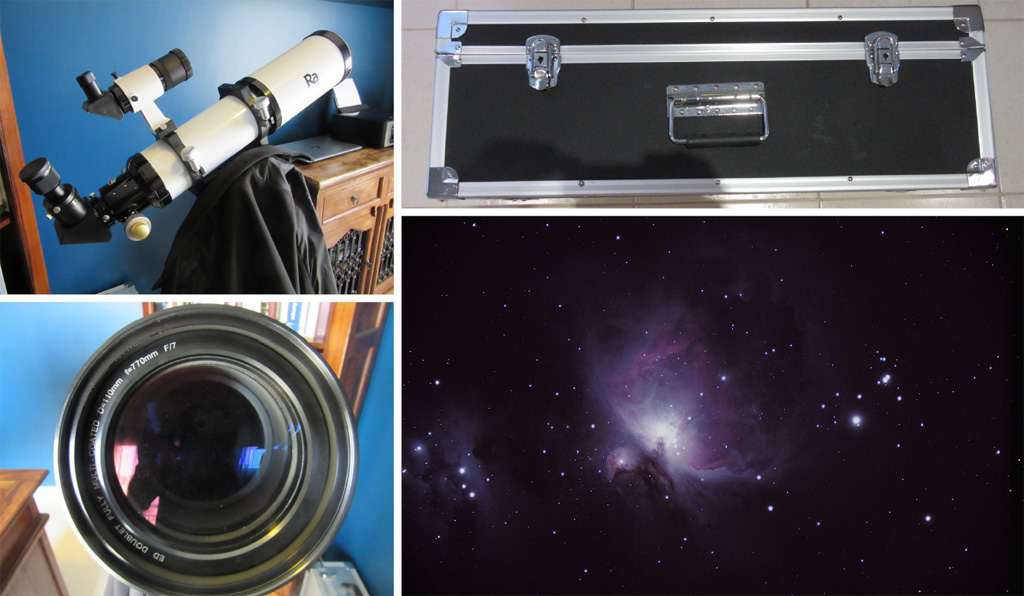 Details: Levenhuk 110-mm ED double Apo refractor and accessories for sale.
Two year old refractor, in perfect condition (see photos), comes with an aluminium carry case. Also included are a 2-inch Orion mirror diagonal (99% reflective, never been used), a right angle 50-mm finder-scope, and 10-mm and 25-mm eyepieces. The image of the Orion nebula was taken using this telescope and a Nikon D5500 on a Celestron AVX mount. I will be able to bring it with me to either Johannesburg, Cape Town or Durban for inspection and sale.
Price: R 12,500.00
Seller: Lindsay Edwards
---
Large selection of telescopes and accessories
Details: A wide range of second-hand telescopes and telescope accessories for sale.
The list includes 18 telescopes: Celestron C14, Celestron C5, Celestron Nexstar 102SLT refractor, Meade 8-inch F10 SCT OTA on CG4 GEM, Meade 10-inch LX200GPS, Meade 10-inch 2120 LX3, Meade 14-inch LX200R, Meade 16-inch LX200GPS, Meade Series 5000 80-m ED tripet APO, Obsession 18-inch f/4.5, Skywatcher 6-inch f/5 Achro refractor, Skywatcher Pro 120mm doublet ED APO, Skywatcher Pro 80mm doublet ED APO, Stellarvue AT-1010 80mm achromatic, Towa 339, Unitron 114 refractor, and a 12-inch f/15 Cassegrain on observatory-grade Nasmyth.
Also available are 52 eyepieces, 2 Barlow lenses, 12 diagonals, 11 focal reducers, 8 illuminated reticle eyepieces, 4 collimation tools, 30 filters, 8 visual backs, 14 hardware/adapters, 5 bits of solar observing kit, and 41 miscellaneous items.
Complete list: Download PDF
Price: Please indicate which items you would like, and make an offer.
Seller: Martin Lyons, Somerset West (082 569 3544)
---
Celestron Nexstar 6SE
Details: "I have a Celestron Nexstar 6SE computerised telescope that I wish to sell for R16,500. I have only used the system a couple of times, so it is still in mint condition. Included in the price is a 14-piece eyepiece and filter set (worth R4,500). The items are available in Stellenbosch."
Price: R 16,500.
Seller: Jan-Albert Koekemoer (083 461 6643)
---
Celestron SkyScout – Personal Planetarium
Details: Brand new, in it's box and never used. More details on Gumtree.
Price: R 3,000.
Seller: Samantha Fishley (Cape Town)
---
Taurus Tracker III
Details: Taurus Tracker III, dual port model, as new. You will need a T-ring adapter to match your camera. This item is being sold on my behalf by Louis Duarte of Photographic Gear, Cape Town. Tel. 021-447-6276, office hours.
Price: R 2,000 – negotiable.
---
Astro-Physics Maxbright 2-inch diagonal
Details: Astro-Physics Maxbright 2-inch diagonal. As new, with end caps, still in the box. New price +-320 USDollars.
Price: R 3,700 – slightly negotiable.
Seller: Doug Carlson (Cape Town)
---
Astro-Physics Starfire 102 apochromatic refractor

Details: Astro-Physics Starfire 102 oil-spaced apochromatic triplet refractor with 2.7-inch focuser. 4-inch Astro-Physics Tube Rings, Fixed non-sliding dew shield with cover, 1.25″ Televue Starbright Diaganol, grey vinyl-covered carrying case, with 1-inch foam (needs some attention), Meade 8×50 finder scope. Eyepieces: Circle T 1.25″ orthoscopic (6, 9, 12.5, 18, and 25) mm plus a 40mm achromatic Huygens. TeleVue equatorial mount, RA and DEC slow motion controls, RA drive with hand controller and battery pack; Astro-physics 8.5″ Dovetail Saddle Plate (DOVELM2) and DOVE8 adapter Plate.
Price includes transportation from Kenya to South Africa.
Price: USD 7 500 o.n.o. (ZAR 90 000 o.n.o.)
Seller: Peter Coventry (Kenya). Email: pete.coventry[AT]me.com
---
Orion Apex 102-mm Telescope and accessories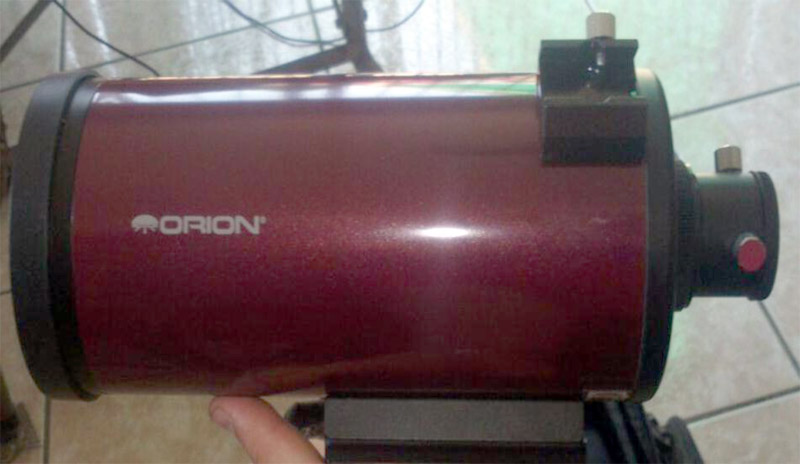 Details: Orion Apex 102-mm Maksutov-Cassegrain Telescope (FL = 1300mm, f/12.7). 25mm eye piece, Zoom eye piece 21-7mm, Barlow Lens 2x, 90 degree prism, 45 degree prism, Variable Universal Camera Adaptor, T-Mount Adaptor. Price: R3,500 o.n.o. Seller: Howard (Benoni, Gauteng). E-mail: seclex[AT]gmail.com. Mobile: 083 258 5045
---
Towa 4.5-inch Catadioptric Telescope
Details: Towa catadioptric telescope, 4.5-inch, with adjustable wooden equatorial mount, serial no. 38342, T-adapter, sun and moon filters, made in Japan, purchased in 1992 from the Johannesburg Planetarium. In good condition, a few minor scratches on metal casing, well looked after. Needs collimation. Price: R 1,900 o.n.o. Seller: Nana Wagner. Please SMS 079 604 8164
---
Meade ETX-90EC system
Details: Meade ETX-90EC with tripod, 90° viewfinder, electronic controller, sundry eye-pieces, Autostar. All in very good condition. Also, a CD containing: Starry Night, Quicktime and ACP (Astronomer's Control Panel). The instrument and its various attachments are sold as a unit. Price: vicinity R 9,000 Seller: Michael McLeod
---
Contacting the seller
Send an e-mail to [ secondhand

assa.saao.ac.za ], with the details (including the seller name) of the items you are interested in. Your mail will be forwarded to the seller.
List your second-hand goods
Do you have second-hand equipment for sale or for swop? Send an e-mail to [ secondhand

assa.saao.ac.za ], to have your listing posted here.