Orion Skyquest Intelliscope 10″ Telescope
16 Jan 2018
10″ Reflector telescope with object locator,
Immaculate condition, purchased in July 2016.
Includes the following accessories:
25mm Orion Sirius Plossl telescope eyepiece (1.25″);
10mm Orion Sirius Plossl telescope eyepiece (1.25″);
Orion 2″ – 1.25″ eyepiece adapter;
Object locator hand controller;
Orion 9×50 finder scope.
Includes following extras:
Orion Low-Profile Hybrid Dual Speed Focuser;
Orion Stratus 5mm 68°  eyepiece (1.25");
Orion Illuminated Plossl 12.5mm Eyepiece;
Celestron Collimation Eyepiece 1.25″;
Original packaging for all items.
Price R11,000
Contact: Jason de Beer (083 257 1786, jason.debeer@exxaro.com)
Location: Durban
Complete Amateur Astronomy Setup
Orion Apex 127mm Compact Maksutov-Cassegrain Telescope
21 Nov 2017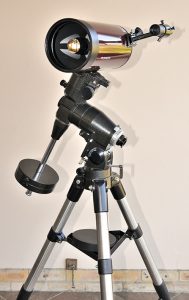 Includes a 25mm Sirius Plossl 1.25″ eyepiece, 6×30 finder scope, 45-degree correct-image diagonal, soft carry case, Starry Night astronomy software.
Mounted on Sky-Watcher EQ5 German Equatorial Mount and Tripod.
Additional Orion Expanse 9 mm Ultra Wide Eyepiece.
PRICE: R6,500.00
Current new price with extras: R17,150.00
Contact Ernest Preiss
Cell: 082 379 3883
Celestron 130EQ
19 Oct 2017
I'm selling a Celestron Astromaster 130EQ telescope.
It is in very good condition. 20mm and 10mm eyepieces.
Location: Springs
Contact: Brandon Gosch
Price: R 2800
074 766 6358 or e-mail sneakygosch@gmail.com
Advanced VX German Equatorial Mount

R23000.00

Advanced VX German Equatorial Mount
6" (150 mm) f/5 optical
NexStar Hand Controller
Power Tank 17
SKYSYNC GPS
Orion Starshoot Camera
Orion Accessories Briefcase
Celestron 6×30 Finder Scope
Orion Laser Mate Deluxe 2
Smaller accessories:
OMNI 20mm Eyepiece
OMNI 1.25″ 2X BARLOW LENS
9,10,15,20 Eyepieces
Filters
Power cords for both AVX and power bank 17
My contact details are Simon@iteceastcape.co.za Cell 082 929 0005.
Celestron SkyProdigy 130
The telescope we're selling is a Celestron SkyProdigy 130 Computerised Telescope. It's unboxed but brand new. We're asking for R7,500 ono.
Jenine Turner
082 202 3398
jenine.turner@outlook.com
Meade ETX125 (GOTO)
5 Oct 2017
With carry case, tripod & solar film filter Price R6000 ONO
John Somers Vine
011 469 1514
078 800 9156
svine@global.co.za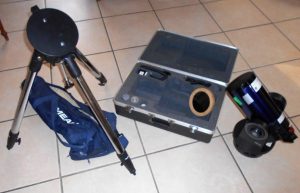 QUESTAR DUPLEX 3.5 INCH SCOPE
21 Sept 2017
With zerodur mirror, broad-band and low reflection coatings, 220 volt/50 Hz reverse wind motor and setting circle. Has Moon map and star chart. Also included is a porro prism and 1.5 inch dakin barlow lens. Scope is in almost mint condition and can be seen in johannesburg. Dealer in USA has advised that scope worth $3000-hence I would sell same at about R35,000 onco.
Milton Amoils – 011 646 2703
milti@netspace.co.za
NEXSTAR 102SLT COMPUTERIZED REFRACTOR TELESCOPE
(01 Aug 2017)
Two eyepieces (25mm & 9mm); StarPointer finderscope; tripod and accessory tray; astronomy software; computerized Altazimuth mount and handheld control. Great condition. R7,000.
Nelson Alvares
T:0725750808
nelson dot avares at gmail dot com
Starlight Xpress SXVR-H674C camera
(18 Jul 2017)
for sale in mint condition. This camera uses a Sony
ICX674ALG EXview CCD chip with 1940 x 1460 x 4.54uM pixels in a 8.8 x 6.63mm active area.
It has extremely low dark current. I have never taken Darks with it. Moving on to a Mono
camera so have to sell. Bought from Mike Hattey at Starlight Xpress in UK for $2350 and hand carried back to SA. Yours for $1800 ( R23000 ). Roy Meyer. CELL 082 560-3064
SBIG ST-8300C imaging device
(04 Jul 2017)
Name: Brandon Webb
Email: brandon.webb.1980@gmail.com
Tel: 083 379 8435
Location: Johannesburg, South Africa
Asking Price: R15000
Condition: :Like New
"The SBIG ST-8300C (color) cameras are based on ON Semi's KAF-8300, 8.3 megapixel, full frame CCD. This CCD array has 3326 x 2504 pixels at 5.4 microns making it ideal for both short fast optics in high resolution (unbinned) mode, and for longer focal lengths it can be binned binned 2×2 or 3×3. The CCD has both antiblooming and microlens technology to improve the effective Quantum Efficiency of the sensor. As a result it can be used in a wide variety of optical configurations. The camera electronics are USB 2.0 for fast download rates and rapid focus mode. The small light body accepts both C-mount and standard 35mm Nikon camera lenses. A built-in mechanical shutter is included for automatic dark frames. In addition to its imaging capabilities, it can also be used as a guider."
Celestron CPC 1100
(04 Jul 2017)
Celestron CPC1100 Telescope with a custom made case on wheels, tripod, Celestron Power tank & Celestron 1.25 inch colour filters. It's in immaculate condition – only used three times. Would like to sell for R32 000.
Location: Somerset West
Contact Charlie on 082 600 2270
Celestron CGEM Goto astronomy mount – R19 800
16 June 2017
I have a Celestron CGEM Goto mount with its tripod for sale. The mount is in excellent condition. There are some minor chips and scratches from normal wear on the dovetail saddle and counterweight.
My guiding with Phd normally gives a total RMS in the region of 1 arc seconds per pixel. In other words, the mount functions as new.
I use the mount with a 16kg telescope, however, the specifications are for up to 20kg telescopes.
These mounts go for R38 000 to R41 000 when purchased new.
Located in Pretoria North for pick up or viewing. Free shipping can be arranged if in Bloemfontein as I go there on a regular basis.
Contact: Brett du Preez (082 771 6278)

---
Send an e-mail to [ secondhand

assa.saao.ac.za ], with the details (including the seller name) of the items you are interested in. Your mail will be forwarded to the seller.
List your second-hand goods
Do you have second-hand equipment for sale or for swop? Send an e-mail to [ secondhand

assa.saao.ac.za ], to have your listing posted here.