TACHARD, Guy [Father]

Visiting Professional  Astronomer

---

Famous for:
First  telescopic observations made of stars in Southern Africa.
.
Summary:
Father Guy Tachard, a French Jesuit Priest, came ashore on his way  to Siam (Thailand). He was here for approximately 10 days (2 June  to approximately 12 June 1685: Simon Van Der Stel was the Governor).  In that time he established an Observatory near the Gardens in Cape Town. He attempted to establish the Longitude,  but was unable to derive a useful co-ordination.

---

History:
.
Career:
.
Personal:

---

"A pendulum clock with seconds". [Harrison]
12 ft

Telescope. [Harrison]

---

Remaining Artifacts:
Painting of Observatory: Africana Museum.
.
Bibliography:
Moore, P. & Collins, P., Astronomy in Southern Africa, pp.21 – 26.    (General Source)
John Harrison Tercentenary, MNASSA, Vol. 52, Nos. 7 & 8, 1993 Aug.
.
By Tachard:
Voyages  de Siam des Peres Jesuites. 1686.

---
Gallery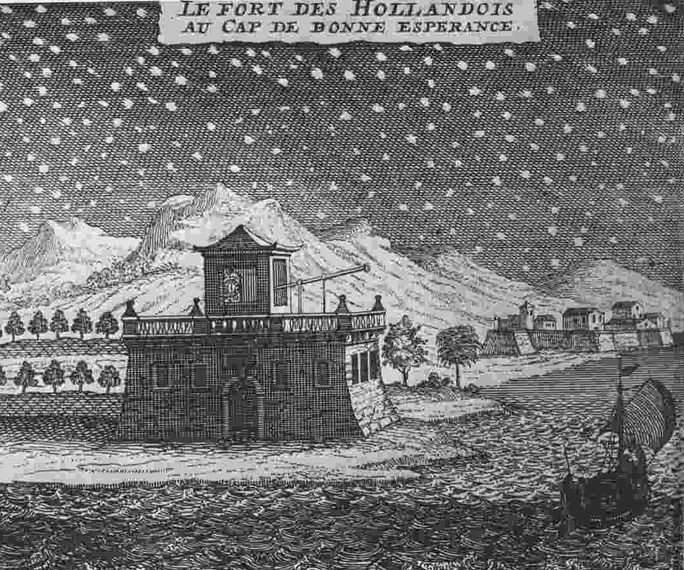 The  drawing is an artistically fanciful drawing of Father Guy Tachard's Observatory in the VOC gardens at the Cape of Good Hope, 1685. Recognisable in the drawing is the coastline, a Castle and a mountain. Capetonians have difficulty in placing this drawing, something is out of place. Go to the next drawing to solve the puzzle.

Courtesy of Africana Museum, Johannesburg. Source: Moore; Smits [unpublished]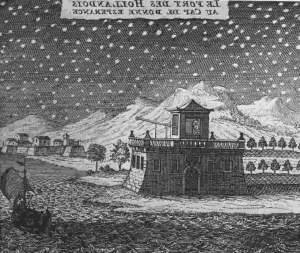 This drawing is a copy of the previous drawing, but flipped around. Imagine the artist located in the vicinity of Adderley Street, close to where the beach used to be, perhaps the present day Golden Acre Shopping Centre. (In the 1920's to 1940's Cape Town had a massive land reclamation project to build the modern day harbour and thus the whole coastline changed.) Looking Eastwards, the territory will be familiar with the Castle of the Cape of Good Hope. Devil's Peak is now recognizable in the background. Tachard's fanciful observatory building may the identified in the next drawing.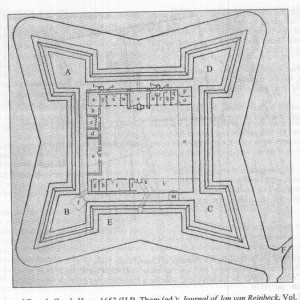 When the Dutch started the Colony at the Cape under the leadership of Jan van Riebeeck, they built a temporary fortrification out of mud and wood known as Fort de Goede Hoop (1652). This drawing is a plan of the fortrification. The fort was of a temporary nature so in 1666 Governor Wagenaer build a new structure, the Castle of the Cape of Good Hope, a familiar site to present day Capetonians.
A Plan of Fort de Goede Hoop, 1653 Credit: (H.B. Thom (ed.): Journal of Jan van Riebeck, Vol. 1, p.27)
Source: Johnson Barker, J. The Castle of Good Hope from 1666.