THACKERAY, A David

Professional Astronomer

---

Famous for:
Director of

Radcliffe

Observatory 1951 – 1974.
.
Summary:
Specialised  in stellar spectroscopy. Did photometry on magnitude stars.

---

History:
Thackeray joined the

Radcliffe Observatory

in 1948 as Chief assistant. He worked on photographic photometry of elliptical galaxies and published a photographic catalogue of planetary nebulae in collaboration with

David Evans

. [Obituary – MNASSA, p.6]
In 1951 Thackeray became director of Radcliffe Observatory until 1974.
.


Career:
Graduated  from Cambridge.
Post graduate works at Mount Wilson in California.
Return to Cambridge.
1948 – 1951: Chief Assistant at Radcliffe.
1951 – 1974: Director of Radcliffe.
1974 April: Retired.
.
Personal:
He was good friends with Cyril Jackson (colleague from Yale Observatory) and on his free time observed at Jackson's private observatory named Hilltop. [Communication with Cyril Jackson's son Paul via Magda Streicher 4/2005]

---

Remaining Artifacts:
.
Bibliography:
Moore, P. & Collins, P., Astronomy in Southern Africa, pp.118 – 119.    (General Source)
Oral Sources: Streicher, M.; Personal verbal communication with various persons.
Smits, P., A Brief History of Astronomy in Southern Africa. (Unpublished)
Evans Obituary: MNASSA Vol. 64, Nos 1 & 2, February 2005.
.
By Thackeray
Photographic Catalogue of planetary nebulae with

David Evans

.


---

Related Internal Links:
Radcliffe Observatory.
Gallery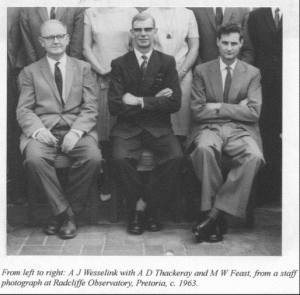 Staff at Radcliffe Observatory, circa 1963. Left to right, A.J. Wesselink, A.D. Thackeray and M.W. Feast. All three were past-Presidents of A.S.S.A. and Feast later became the second director of the S.A.A.O.
Source: Smits [unpublished]; MNASSA 1995, p.85.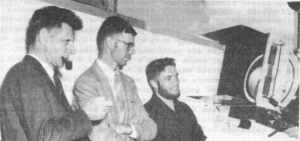 Thackeray is in the middle, with Cyril Jackson to his left and Karl Henize to his right.

Bloemfontein c. 1950. Source: MNASSA 1989, Vol. 48, No. 7, p. 66.