Rockefeller  Reflector (Boyden)

1.5m (60-inch)

 

Index:

Summary; History; Current; Technical; Sources; Links; Gallery:

---

Important  Contributions:

Description:

Possibly  the largest telescope in South America until 1927.

The largest telescope in South Africa for two decades. 1927 – 1951. (Currently third largest)

This telescope was initially installed in the first Boyden  Observatory in Arequipa, Peru. For a variety of reasons the Observatory moved to its new site in Bloemfontein.

---

History:

"The name of the telescope has an interesting history. In the early part of the century Harvard obtained two mirrors from a  famous English optician, Dr A. A. Common, with the intention of installing them in a southern station. But the cost of a mirror is only a part of the cost of a whole telescope, plus its observatory, and – as so often happens – funds were short. So the mirrors  lay unused; and it was only in the 1930s that the Rockefeller family agreed to provide what was needed. It was then, only fair  to call the 60-inch the Rockefeller reflector. But  there was another point to be considered: Common's mirrors were good, but not up to modern requirements." [Copied from Moore,  p.123.] (Quandery: If the telescope was in use at Arequipa,  Peru and moved to Bloemfontein in 1927 then how can the above paragraph be true? Any new information on the topic will be appreciated)

'When Jarrett became Director, in 1968, he promptly decided that the telescope would have to have new optics. The cost amounted to about 200 000 Rands, but was well worthwhile. The  opportunity was also taken to renovate the drive of the telescope, which had become worn over the years, so that when everything  was completed the telescope was as up to date as any in the world."  [Copied from Moore, p.123.]

"Of  course, telescopes of this size are almost never used visually. Until recent year's (1970s), the emphasis has been on photography, but photoelectric devices, which are far more sensitive, are now superseding even this. Photoelectric photometers, image tubes and the like are used with the Rockefeller reflector and the large number of clear nights means that programmes can be carried on throughout the year with practically no interruption."  [Copied from Moore, p.123.]

Owner:

Harvard University: 1904 – 1976?

University of the Orange Free State: 1976? – present

Where  Located:

Boyden Arequipa: 1904 – 1927 [Centrepiece, MNASSA]

Boyden

Bloemfontein: 1927 – present.

---

Present  Location:
Boyden  Bloemfontein.
.
Owner:
University of the Free State.
Status:
Operational.

Condition:

---

Type: Reflector
Aperture: 60 inch (152.4 cm)
Focal Length: 314 inch (798 cm)
Mirror:

Mirrors made by A.A. Common. Installed in 1930's. Mirrors  were good but not quite up to scratch.

1968.New mirrors. Weight 4 tons.

Mounting: Equatorial
Attachments:
One of the main features of the telescope is the ease with which a changeover from one attachment to another can be achieved.

Manufacturer:
Operational History:

Initial  Optics was not too good. [Moore, p.122.]

1927: Upgrade of telescope and installation of mirrors made by Common. This was done during the downtime created by the move [Smits; Moore, p.123.]

1968: New optics.

2001: Upgrade New DFM control system, Pixelvision CCD camera and ST-6  autoguider CCD camera.

Building:
Other Information:

Weight  of telescope: 40 ton.

Driving  mechanism very precise.
---
Documentation:
Pictorial  Sources:
Moore,  P. & Collins, P., Astronomy in Southern Africa, p.123.
Bibliography:
Centrepiece,  MNASSA, Vol. 45, Nos. 5 & 6 June 1986

Boyden Update, MNASSA, Vol. 61, Nos. 9 & 10, October 2002, pp.115 – 116.

Moore, P. & Collins, P., Astronomy in Southern Africa, pp.122 – 124.  (General Source)

Smits  P. A Brief History of Astronomy in Southern Africa. (Unpublished).
---
Related Internal Links:
Related External Links:
Friends of Boyden
Gallery
The Rockefellar Telescope.
Photo Credit: Patrick Moore. (Source: Moore)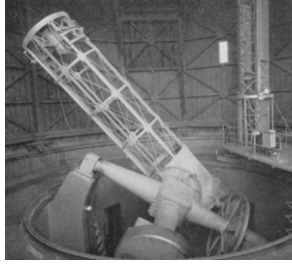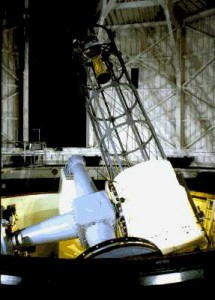 Source: A.S.S.A. Symposium 2002: Paper 04 Calitz4: Boyden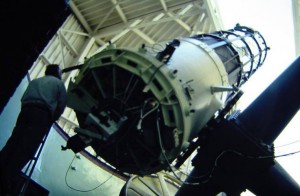 Photo Credit: Willie Koorts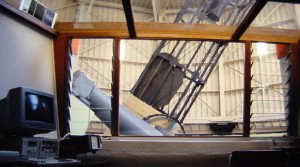 The control centre of the Rockefeller telescope.(This is where the astronomers stay warm on cold evenings.) The dust cover for the primary mirror is open in this photo.
Photo Credit: Willie Koorts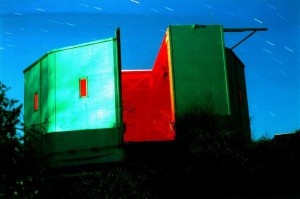 A spectacular photo of the Rockefeller dome.
Source: A.S.S.A. Symposium 2002: Paper 04 Calitz4: Boyden