Cox  – Hargreaves Reflector

45 cm (18 inch)

Note: S.A.A.O. p.8. refer to this instrument as the 48-cm instrument.

Index:

Summary; History; Current; Technical; Sources; Links; Gallery:

---

Important  Contributions:

Description:
Was used mainly for photoelectric photometry. (Three colour photoelectric observation)

---

Owner:
1955 – present:

Cape Observatory

(now

S.A.A.O.

)
.
Where  Located:
Observatory (Cape Town)

---

Present  Location:
Cape Observatory
.
Owner:
S.A.A.O.Status: Not in use

Condition: The telescope and its building with the dome build by Grubb is in dire need of repairs.

---

Type: Reflector
Aperture:
Focal Length: 18 inch (45.7 cm)
Mirror:
Mounting: Fitted onto the original Repsold mounting that carried Gill's heliometer. [Laing, p.31.]
Attachments: The finder telescope is the

Mertz 7-inch

telescope.
Manufacturer: Dall – Kirkham (Cox – Hargreaves [Laing, p.31.]) [Smits]
Building: This building, a dome build by Grubb, stands on the site where the 4.2-inch Dun Echt heliometer use to stand.
---
Documentation:
Pictorial  Sources:
Bibliography:
Koorts, W.: The 1882 transit of Venus: The British expeditions to South Africa; MNASSA April 2004, Vol. 63 nos. 3 & 4, pp. 34 – 57.

Laing, J.D. (ed.), The Royal Observatory at the Cape of Good Hope 1820  – 1970 Sesquicentennial Offerings, p.17; p.31.

Moore, P. & Collins, P., Astronomy in Southern Africa, p. 83. (General  Source)

The  South African Astronomical Observatory.
(Publication of SAAO, no author, no date)

Smits, P., A Brief History of Astronomy in Southern Africa. (Unpublished)
---
Gallery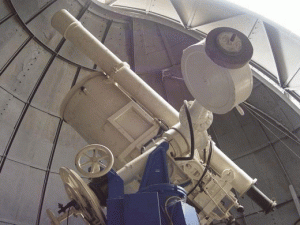 The Cox – Hargreaves 18-inch telescope with the 7-inch Mertz telescope mounted on it.
Photo Courtesy: Willie Koorts