Elizabeth  Telescope

100  cm (40 inch)
Index:
Summary; History; Current; Technical; Sources; Links; Gallery:
In brief
Important  Contributions:
Description:
It  was named the Elizabeth Telescope because approval was given "in  principle" to built the telescope, in the same year as Queen  Elizabeth 2nd was crowned (1953).

1964: Formally opened.

Used for Photoelectic Photometry.
Historical Background
History:
The telescope was produced by Grubb-Parsons and shipped directly to Sutherland. Assembly of the telescope was overseen by Mr. T Haal from Grubb-Parsons. First light was achieved on 13 November 1963, exactly two months after the telescope arrived at Sutherland. Initially photographs were taken in the Cassegrain focus configuration until the Primary focus was assembled. (R.H.S.)
Owner:
Where  Located:
Observatory (Cape Town)
(Note: It is the same premises initially known as the Cape Observatory, now as S.A.A.O. headquarters in Observatory, Cape  Town.)
Current Information
Present  Location:
Sutherland
Owner:
S.A.A.O.
Status:
Operational
Condition:
Technical  Details
Type: Reflector / Cassegrain
Aperture: 40 inch (101.6 cm)
Focal Length:
Prime  focus: f/4.6

Cassegrain focus: f/20

Mirror:
Mounting:
Attachments:
Manufacturer:
Sir Howard Grubb Parsons & C o . of Newcastle, England.
Building:
The dome was a gift by Mr  William Johnstone Yapp in 1931 for a 36-inch telescope at Greenwich. After the main instruments were moved to Herstmonceux in 1946 the telescope and dome fell into disuse. It was decided to move the dome in 1956 to the Royal Observatory, Cape of Good Hope (ROCGH) which was then still under the control of the Admiralty. In turn the dome was moved from the ROCGH to Sutherland.
Sources
Link to the Main Bibliography Section and more information about Sources.
Documentation:
Pictorial  Sources:
Bibliography:
Laing,  J.D. (ed.), The Royal Observatory at the Cape of Good Hope 1820 – 1970 Sesquicentennial Offerings, p.17; p.31.

Moore, P. & Collins, P., Astronomy in Southern Africa, p.83. (General Source)

The  South African Astronomical Observatory, p.4.
(Publication of SAAO, no author, no date)
R.H.S.: The Elizabeth Telescope (no publication information or date: Initials of Author is R.H.S.)
.
Gallery

The 40 inch Elizabeth telescope.
Source: A.S.S.A. Archives: Peter Smits Collection.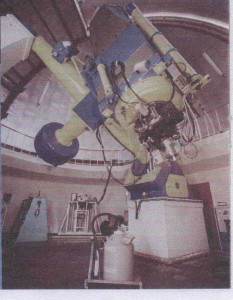 The 40 inch Elizabeth telescope at Sutherland.
Source: Smits [unpublished]