Elizabeth  Telescope

100  cm (40 inch)
Index:
Summary; History; Current; Technical; Sources; Links; Gallery:
In brief
Important  Contributions:
Description:
It  was named the Elizabeth Telescope because approval was given "in  principle" to built the telescope, in the same year as Queen  Elizabeth 2nd was crowned (1953).

1964: Formally opened.

Used for Photoelectic Photometry.
Historical Background
Owner:
Where  Located:
Observatory (Cape Town)
(Note: It is the same premises initially known as the Cape Observatory, now as S.A.A.O. headquarters in Observatory, Cape  Town.)
Current Information
Present  Location:
Sutherland
Owner:
S.A.A.O.
Status:
Operational
Condition:
Technical  Details
Type: Reflector / Cassegrain
Aperture: 40 inch (101.6 cm)
Focal Length:
Prime  focus: f/4.6

Cassegrain focus: f/20

Mirror:
Mounting:
Attachments:
Manufacturer:
Sources
Link to the Main Bibliography Section and more information about Sources.
Documentation:
Pictorial  Sources:
Bibliography:
Laing,  J.D. (ed.), The Royal Observatory at the Cape of Good Hope 1820 – 1970 Sesquicentennial Offerings, p.17; p.31.

Moore, P. & Collins, P., Astronomy in Southern Africa, p.83. (General Source)

The  South African Astronomical Observatory, p.4.
(Publication of SAAO, no author, no date)
.
Gallery

The 40 inch Elizabeth telescope.
Source: A.S.S.A. Archives: Peter Smits Collection.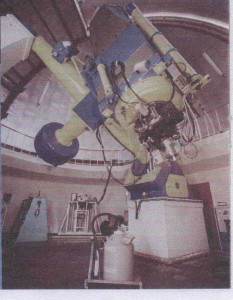 The 40 inch Elizabeth telescope at Sutherland.
Source: Smits [unpublished]