Hartebeesthoek Radio Antennae

85 feet (26 meters)

 
Index:
Summary; History; Current; Technical; Sources; Links; Gallery:
In brief
Important  Contributions:
Description:
Historical Background
History:
By the time that the tracking of deep-space probes had been fully developed, Hartebeeshoek's original "tracking dish" had been augmented by a huge radio paraboloid with a diameter of 85 feet, as tall as a ten-storey building and with a total weight of about 600 000 pounds. It was — and is — a most impressive structure, visible from miles around and dominating the landscape. It remains much the largest fully-steerable radio telescope in South Africa, and one of the largest in the southern hemisphere, and it can be controlled with remarkable precision, so that it can cover the whole of the sky. [Copied from Moore, p. 138.]
The dish itself, with an area of one-eighth of an acre, is attached to a special quadropod support, which itself holds the gold-coated secondary or sub-reflector, below which is a cone. The radio waves from space hit the dish and are sent up to the sub-reflector; they then pass through wave-guides into the cone, which contains the receiver. The signals then pass through complicated systems of circuits and end up in the control room in the main building, several hundred yards away, where the results are obtained in the form of a pen-trace on a paper attached to a revolving drum. [Copied from Moore,p. 140.]
Owner:
Where Located:
Hartebeesthoek.
Current Information
Present  Location:
Hartebeesthoek Radio Observatory
Owner:
Hartebeesthoek Radio Observatory
Status:
Operational
Condition:
Technical Details
Type: Fully steerable radio telescope.
Aperture: 85 feet (25.908 meters)
Focal Length:
Dish: Paraboloid dish
Mounting:
Attachments: Feeds for 18; 13; 6.5; and 2.5 cm wavelenghts.
Manufacturer:
Operational History:
Building:
Sources
Documentation:
Pictorial Sources:
Bibliography:
Moore, P. & Collins, P., Astronomy in Southern Africa, pp. 137 – 140 (General Source)

Smits, P., A Brief History of Astronomy in Southern Africa. (Unpublished)

Links
Gallery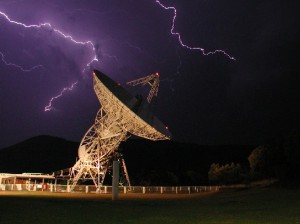 The 26 meter VLBI Radio Telescope at Hartebeeshoek.
Photo Credit: Patrick Moore. Source: Moore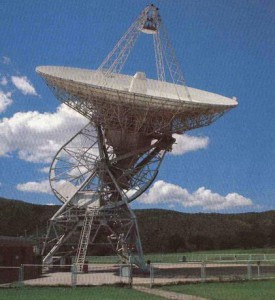 Source: A.S.S.A. Symposium 2002: Paper 08 Combrinck: Space Geodesy at HartRAO