Heliograph

4  inch (10 cm)
Index:
Summary; History; Current; Technical; Sources; Links; Gallery:
In brief
Important  Contributions:
Description:
Used  since 1910 to take two photographs of the sun per day (weather permitting). The photos were sent to Royal Greenwich  Observatory.
Historical Background
Owner:
Cape Observatory
Where Located:
Cape Observatory
Current Information
Present  Location:
SAAO
Owner:
SAAO
Status:
Used occasionally for public viewing.
Condition:
Operational
Technical Details
Type: Reflector / Refractor
Aperture: 4 inch (10.16 cm) giving an 8-inch (20.32-cm) picture
Focal Length:
Mirror / Lens:
Mounting:
Attachments:
Manufacturer:
Operational History:
Building:  The heliometer stood in the dome which first housed the 7-inch Mertz telescope (18-inch dome). A unique feature of the dome is that it revolves on six cannon balls. [Koorts p. 52]
Sources
Link to the Main Bibliography Section and more information about Sources.
Documentation:
Pictorial Sources:
Bibliography:
Koorts, W.: The 1882 transit of Venus: The British expeditions to South Africa; MNASSA April 2004, Vol. 63 nos. 3 & 4, pp. 34 – 57.

Laing, J.D. (ed.), The Royal Observatory at the Cape of Good Hope 1820  – 1970 Sesquicentennial Offerings, p.32.
Links
Gallery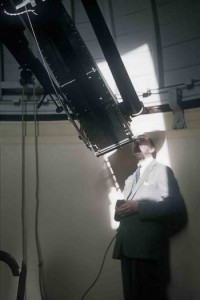 Reginald de Kock at the eyepiece of the Heliometer.
Source: A.S.S.A. Archives: Peter Smits Collection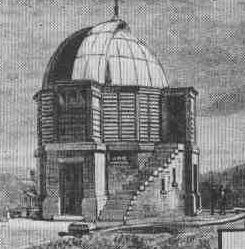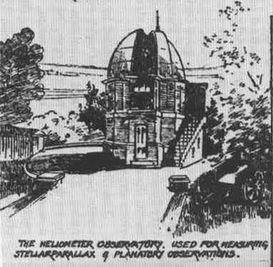 The Heliometer Observatory. Sketches are part of a compilation of sketches concerning the Cape Observatory.
Left hand sketch published by "The Graphic", 27 August 1892. Courtesy of Africana Museum, Johannesburg. Source: Moore
Right hand sketch published by "The Cape Times", 19 September 1908. Source:Warner, Astronomers
The building is today known as the 18-inch dome.