Herschel's 20 ft Telescope

20 ft  (609.6 cm)
Index:
Summary; History; Current; Technical; Sources; Links; Gallery:
In brief
Important  Contributions:
Description:
John Herschel brought this instrument with him when he came to live temporarily in Cape Town. (It was the same instrument that his father had built and used for the Northern Hemisphere survey.) [Smits]
Historical Background
Owner:
Sir  John Herschel 1834
Where Located:
Feldhausen (modern day Wynberg, Cape Town)

Current Information
Present  Location:
Owner:
Status:
Condition:
Technical  Details
Type: Focus Reflector
Aperture:
Focal Length: 20 ft (609.6 cm)
Mirror / Lens:
Mounting:
Attachments:
Manufacturer: Herschel

Sources
Link to the Main Bibliography Section and more information about Sources.
Documentation:
Pictorial Sources:
Moore, P. & Collins, P., Astronomy in Southern Africa, p. 57. (General  Source)
Bibliography:
Moore,  P. & Collins, P., Astronomy in Southern Africa, p. 15., p.  51. (General Source)

Smits, P., A Brief History of Astronomy in Southern Africa. (Unpublished)
Links
Gallery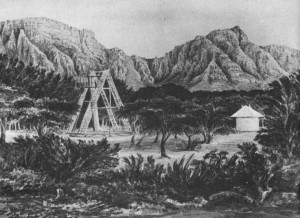 Camera Lucida sketch of Herschel's 20 ft. telescope in situ at Feldhausen, 1834.
Courtesy of Africana Museum. (Source: Moore; Evans)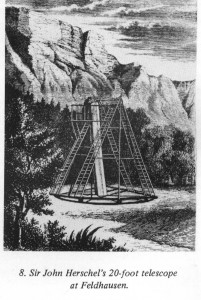 20 foot telescope at Feldhausen.
Source: Warner, Maclear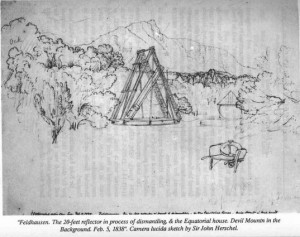 The 20 feet camera in the process of dismanteling, Febr. 1838.
Source: Warne – Lady Herschel.