Innes  Refractor

67 cm (26.5 inch)
Index:
Summary; History; Current; Technical; Sources; Links; Gallery:
In brief
Important  Contributions:
Description:
Following several requests, some dating back to 1903, the Minister for Lands,  Johan Rissik in 1909 authorised the telescope for the

Republic Observatory

(then called Transvaal Meteorological Department).  [Hers; Smits]

The  manufacturer was Grubb co. of Ireland. The telescope that was ordered in 1909. Due to delays caused by political problems in Ireland at that time, most of the mechanical parts had been completed in 1914 and was only installed in 1925.

The Republic Observatory closed down and some of the instruments were moved to Sutherland. The Innes refractor remained behind at the old Observatory site, unused.

In (year?) the (society?) restored the instrument and now it is open  to the public on special occasions.
Historical Background
Owner:
Republic Observatory.
Where  Located:
Republic Observatory.
Current  Information
Present  Location:
Republic Observatory.
Owner:
Status:
Condition:
Reconditioned
Technical Details
Type: Refractor
Aperture: 26.5 inch (67.3 cm)
Focal Length:
Lens:
Mounting:
Attachments:
Manufacturer: Sir Howard Grubb of Dublin (Ireland)
Sources
Interesting Links:
Link to the Main Bibliography Section and more information about Sources.
Documentation:
Pictorial  Sources:
Moore,  P. & Collins, P., Astronomy in Southern Africa, p.97. (General  Source)

Africana Museum
Bibliography:
Hers, J., The History of the Transvaal Observatory. 1, 2 & 3, MNASSA,  Vol. 46, Nos. 1 & 2 [Feb], 3 & 4 [April], 5 & 6 [June],  1987 (As well as personal communications between Hers and Smits)

Moore, P. & Collins, P., Astronomy in Southern Africa, p.97, p.107. (General Source)

Smits  P. A Brief History of Astronomy in Southern Africa. (Unpublished).

The  South African Astronomical Observatory, p.18.
(Publication of SAAO, no author, no date)
Gallery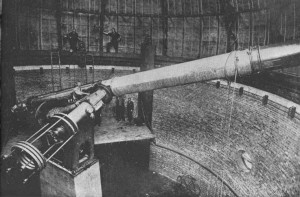 The 26 and a half inch telescope during installation at the Union Observatory in 1925.
Courtesy Africana Museum. Source: Moore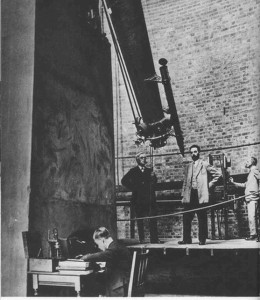 The four successive Union Astronomers: R.T.A. Innes (left) 1912 – 27; H.E. Wood (right) 1927 – 41; W.H. van den Bos (centre) 1941 – 56; W.S. Finsen (at desk) 1957 – 65.
Source: Moore