IRSF telescope

1.4  m (55.1 inch)
Index:
Summary; History; Current; Technical; Sources; Links; Gallery:
In brief
Important  Contributions:
Description:
Dedicated  instrument for the Infrared Survey Facility (IRSF) project.
Historical Background
Owners:
Partnership  between S.A.A.O. and Nagoya  University in Japan
Where  Located:
Sutherland
Current  Information
Present  Location:
Sutherland
Owner:
Partnership  between S.A.A.O. and Nagoya University in Japan
Status:
Operational
Condition:
Technical  Details
Type: Reflector (alt-azimuth)
Aperture: 140 cm (55.1 inch)
Focal Length:
Mirror:
Mounting: Alt – Azimuth
Attachments:
SIRIUS

camera (Simultaneous 3 colour Infrared Imager for Unbiased  Surveys) functioning at J (1.25), H (1.65), and K (2.15) micron wavelengths.
Manufacturer:
Operational History:
2000 November 15: Opened.
Building: 7,5-m dome with full flow through ventilation.
Sources
Documentation:
Pictorial  Sources:
Bibliography:
MNASSA,  Vol. 59, Nos. 11 & 12, December 2000.

MNASSA,  Vol. 60, Nos. 1 & 2, February 2001.

Smits  P. A Brief History of Astronomy in Southern Africa. (Unpublished).
Gallery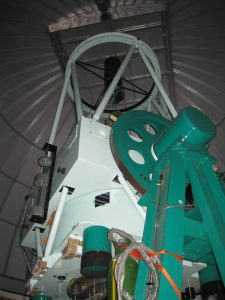 T