| | |
| --- | --- |
| Radcliffe 74-inch  (1.9 m) | |
Index:
Summary; History; Current; Technical; Sources; Links; Gallery:
In brief
Important  Contributions:
Description:
Largest telescope in South Africa from 1951 – 2004 until the

S.A.L.T. telescope

came into use.

The contract was signed with Grubb Parsons for the building of the telescope in August 1935. Due to problems in casting such a large mirror, the third attempt was successful in 1938. World War Two delayed all attempts to complete the mirror and work only resumed in 1945. The mirror reached Pretoria only in 1948.

The primary mirror was slightly thinner than anticipated and a modification had to be made to the main cell of the telescope in order to fit the mirror safely.

David Evans

was tasked with this modification. [Evans Obituary – MNASSA, p.6]

Although the telescope was designed as a Cassegrain, for the first two years photography was confined to the secondary mirror in a Newtonian configuration. [Evans Obituary – MNASSA, p.6]

Due to light pollution problems at Radcliffe Observatory, and with the amalgamation of astronomical facilities at the time (

S.A.A.O.

), the telescope was moved in 1974 to Sutherland.
Historical Background
Owners:
Where  located:
Radcliffe Observatory 1948 – 1974

Sutherland 1974 – present
Current  Information
Present  Location:
Sutherland
Owner:
S.A.A.O.
Status:
Condition:
Technical  Details
Type:-Reflector  with choice of Newtonian focus, or as a Cassegrain of Coude for spectroscopic work.
Aperture: 74 inch (187.9 cm)
Focal Length:
Mirror:
Primary mirror:
Made by Corning  Glass Company of New York [Moore, p.115]

Disk made out of Pyrex, at a weight of 3.6 ton. (Telescope structure containing mirror weighs 5 ton) [Moore, p.115; p.117.]

In 1935 the order for the mirror was placed. The first two casts of mirror were unsuccessful. The third cast was successful and the mirror reached Grubb Parsons in Newcastle by October 1938. The Second World War interrupted the grounding, polishing and testing of the mirror [Moore, p.115]

The third cast mirror was slightly thinner than anticipated and a special modification had to be made to the telescope housing in order to fit the mirror securely. [Evans Obituary – MNASSA, p.6]

Mounting: "the planner, had little faith in the constancy of the local electricity supply and the drive mechanism of the telescope was  actually regulated by a tuning-fork!" [Copied from Moore, p.117.]
Attachments:
Evans Spectrograph

.

David Evans

designed and built a Newtonian spectrograph. (a large spectrograph) [Smits; Evans Obituary – MNASSA, p.7]

Coude  Spectograph 1960 [Smits]
Manufacturer: Grubb Parsons of Newcastle Ireland
Building:
Radcliffe. (Pretoria) Part of the agreement with Grubb Parsons telescope  makers was to build both the telescope and the building to house  the telescope. The building had a 61-ft (18.5 m) turret. The "unusually shaped turret" was double walled for temperature control. The outer cover was made of galvanised steel and the inner wall  of wood fibreboard. The non-rotating part of the building was made of an inner brick wall surrounded be an outer sheath of metal lathing (forming a cavity), coated with rough cast plaster. [Moore, p.115; p117]
Picture: Moore, P. & Collins, P., Astronomy in Southern Africa,  p.117; p.118.

Sutherland.
Sources
Link to the Main Bibliography Section and more information about Sources.
Documentation:
Pictorial  Sources:
Bibliography:
Evans Obituary: MNASSA Vol. 64, Nos 1 & 2, February 2005.

Moore, P. & Collins, P., Astronomy in Southern Africa, p.115; pp.117  – 119. (General Source)

Smits, P., A Brief History of Astronomy in Southern Africa. (Unpublished
Links
Gallery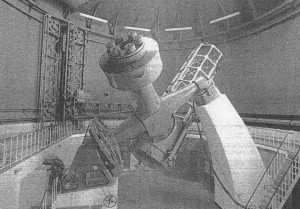 The 74-inch telescope shown here at Radcliffe Observatory in Pretoria. The telescope was later moved to Sutherland. For many years it was the largest telescope in South Africa.
Source: Smits [unpublished]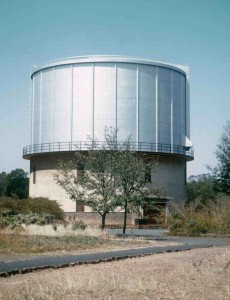 The Dome for the 74 inch telescope whilst it was still at Radcliffe Observatory, Pretoria.
Source: A.S.S.A. Archives: Peter Smits Collection.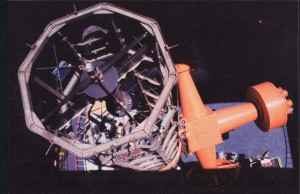 1.9m telescope, SAAO Sutherland.
Source: MNASSA.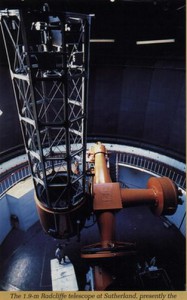 Source:Unveiling the Universe: Special Archimedes (Vol.6 no.2) supplement on Astronomy in South Africa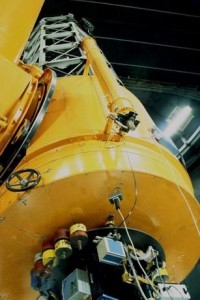 Photo Credit: C de Coning.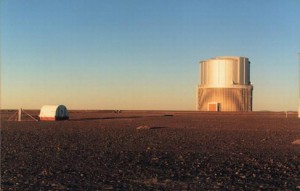 The 1.9m telescope dome at Sutherland.
Photo Credit: Dr. H Campbell. (Source: Moore