Repsold  Heliometer

7  inch (17 cm)
Index:
Summary; History; Current; Technical; Sources; Links; Gallery:
In brief
Important  Contributions:
Gill determined the solar parallax (in co-operation with Northern Hemisphere observations) of three minor Planets, Iris; Victoria and Sappho.

Gill determined the distances to Southern Hemisphere stars.
Description:
Sir David Gill came to the Cape Observatory and bought with him the Dun  Echt Heliometer. He then decided to procure a larger instrument,  which was the Repsold Heliometer.
Historical Background
Owner:
Cape Observatory.
Where Located:
1887 – ?: Cape Observatory.
Current Information
Present  Location:
Owner:
Status:
Condition:
Technical Details
Type: Reflector / Refractor
Aperture: 7 inch (17,78 cm)
Focal Length:
Mirror / Lens:
Mounting:
The  mounting originally carried Gill's  heliometer.

Later  the mounting was used for the 18-inch telescope.
Attachments:
Manufacturer:
Sources
Link to the Main Bibliography Section and more information about Sources.
Documentation:
Pictorial Sources:
Bibliography:
Laing,  J.D. (ed.), The Royal Observatory at the Cape of Good Hope 1820 – 1970 Sesquicentennial Offerings, pp.12 – 13; p.31.
Links
Gallery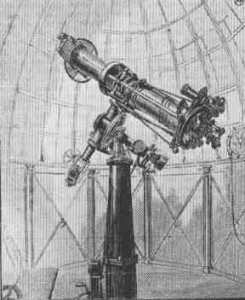 The Repsold Heliometer. The sketch is part of a compilation of sketches concerning the Cape Observatory.
Published by "The Graphic", 27 August 1892. Courtesy of Africana Museum, Johannesburg. Source: Moore.