Reunert  Telescope

23 cm (9 inch)
Index:
Summary; History; Current; Technical; Sources; Links; Gallery:
In brief
Important  Contributions:
Description:
The

Republic Observatory

(then known as the Transvaal Meteorological Department) was initially  a meteorological institution. It was decided to diversify into  astronomical observation. Director Innes, with the help of Dr Theodore Reunert acquired this telescope  as the first astronomical instrument for the observatory. (? See  Errata at bottom of page)

Telescope  erected in 1907 and known as the 9 inch telescope.  In 1924 it was renamed the Reunert telescope in honour of Dr T Reunert, from the S. A. Association for the Advancement of Science,  who had been one of the prime movers on having the Republic Observatory established and extended. This occasion was celebrated with a  formal dinner. [Hers; Smits]

During 1962 – 1964 a new office block with a library was built with two domes on its roof. The Reunert and

Franklin Adam twin

telescopes were moved here. [Hers]
Historical Background
Owner:
Republic Observatory
Where  Located:
Republic Observatory 1907 – ?
Current Information
Present  Location:
Owner:
Status:
Condition:
Technical Details
Type: Refractor
Aperture: 9 inch (22.8 cm)
Focal Length:
Lens:
Mounting:
Attachments:
Manufacturer: Grubb [Smits]
Sources
Link to the Main Bibliography Section and more information about Sources.
Documentation:
Pictorial Sources:
Bibliography:
Hers, J., The History of the Transvaal Observatory. 1, 2 & 3, MNASSA,  Vol. 46, Nos. 1 & 2 [Feb], 3 & 4 [April], 5 & 6 [June],  1987 (As well as personal communications between Hers and Smits)

Moore, P. & Collins, P., Astronomy in Southern Africa, p. 96. (General  Source)

Smits, P., A Brief History of Astronomy in Southern Africa. (Unpublished)
Errata:
Moore  gives the spelling as Reunart. It should be Reunert [Personal communication with Vermeulen]

Moore  states that this telescope was the first telescope erected at the Republic Observatory. The first telescope was the ?

Links
Gallery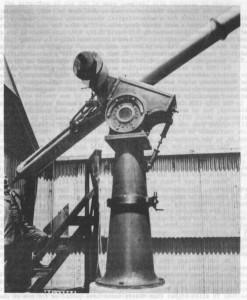 The 9-inch telescope of the Transvaal Observatory.
Source: MNASSA.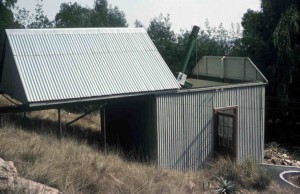 The 9 inch telescope and it's building at the Republic Observatory.
Source: A.S.S.A. Archives: Peter Smits Collection.