---
June 2022
Centenary Celebration
Follow this link Symposium 2022
---
October 2022
SAAO 200 Virtual Symposium held 20 – 22 October 2020

Recordings of the presentations and posters available via SAAO YouTube channel and can be easily accessed via the SAAO website or the link:  https://www.saao.ac.za/symposium-recorded-talks/
Please note that some presentations were proprietary and cannot be made available.
---
Every two years the Society holds a symposium where a variety of astronomy-related papers are presented, both by invited guest speakers and from the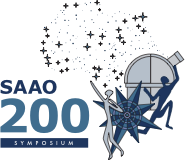 membership.
This year is the 200th Anniversary of the establishment of "the Royal Observatory at the Cape of Good Hope", now known as the South African Astronomical Observatory (S.A.A.O.)  in Cape Town. A commemorative symposium is being organised by the S.A.A.O. The Society is not hosting a  symposium in 2020 but support and assist the S.A.A.O. in their symposium. For more information go to https://saao200.saao.ac.za/
The first symposium was held in 1992, in Cape Town. Visit the ASSA Symposia archives page for reports and photos of previous symposia.