Introduction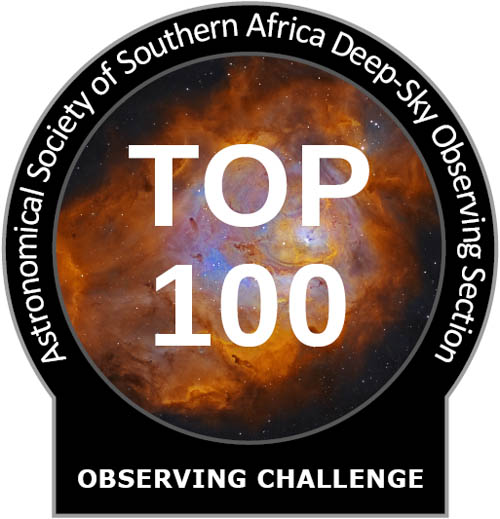 The ASSA Top-100 is an observing challenge for the novice and seasoned observer alike. Hand-picked and collected together in a single list for the first time are the 100 best galaxies, star clusters and nebulae visible in the southern skies. Many can be seen with the naked eye and all are visible in binoculars, so a telescope is not essential to see them. For each 20 objects you observe, the Society will issue a General Observer's Certificate in recognition of your work (given that the observations meet basic quality standards). Your observations will also be added to the DOC Deep Sky Database.
Download the Top-100 list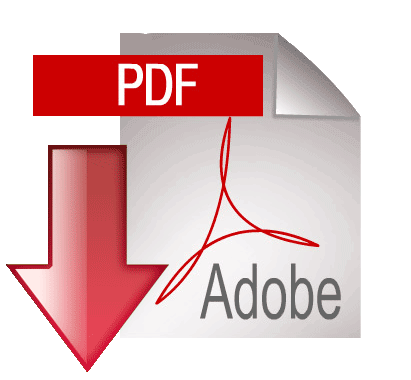 Download the ASSA Top-100 as a PDF or scroll down to the bottom of the page for the table.
How do I submit observations?
Send your observations by e-mail to [nightfall

assa/saao.ac.za]. When submitting sketches by e-mail, make sure they are scanned/photographed at good quality. Don't hesistate to contact me for further details. I look forward to receiving your deep sky observations!
How do I record an observation?
Guidelines for recording observations can be found in the "Deep Sky Observing Checklist". You may also want to take a look at the "Deep Sky Observer's Companion tutorial", a thorough introduction to deep sky observing techniques.
"As stargazers we should practice what Lee Cains calls 'the serene art of visual observing.' We must learn to see with the mind as well as the eye. This means really examining and contemplating the varied scenes before us in the eyepiece. All deep sky objects deserve at least 15 minutes of your time. Glancing at an object once it's found and then rushing to another and another is like reading only the Cliff's Notes of the world's great novels." – James Mullaney
Brief summary of the list
Of the 100 gems, 86 appear in the NGC (New General Catalogue), six are from the IC (Index Catalogue) and the remaining eight are from various other catalogues. The objects are spread about the sky, but all are south of the celestial equator. The most southerly object has a declination of −79.3°. Several objects are circumpolar from southern Africa, and in any given month, more than 45 of the 100 objects can be seen during the course of an evening.
Who's completed the Top-100 Challenge?
Michael Poll – 2018 October; ASSA Pretoria Centre
Percy Jacobs – 2013 September; ASSA Pretoria Centre
Louis Kloke – 2013 September; ASSA Pretoria Centre
Michael Moller – 2013 September; ASSA Pretoria Centre
George Dehlen – 2013 March; ASSA Pretoria Centre
Who is busy with the Top-100 Challenge?
Pat Kühn – ASSA Pretoria Centre
Craig Kloke – ASSA Pretoria Centre
Grant Thompson – ASSA Pretoria Centre
Andre de la Porte – ASSA Pretoria Centre
Graham Low – ASSA Pretoria Centre
Albie Lombard – ASSA Pretoria Centre
Richard Ford – ASSA Cape Centre
Photographing the Top-100
To date (2016 November) three astrophotographers have undertaken the project of photographing these glorious objects.Michael Moller (Centurion), John Gill (Durban) and Barbara Cunow (Pretoria) are to be congratulated on completing this task!
Collage by Barbara Cunow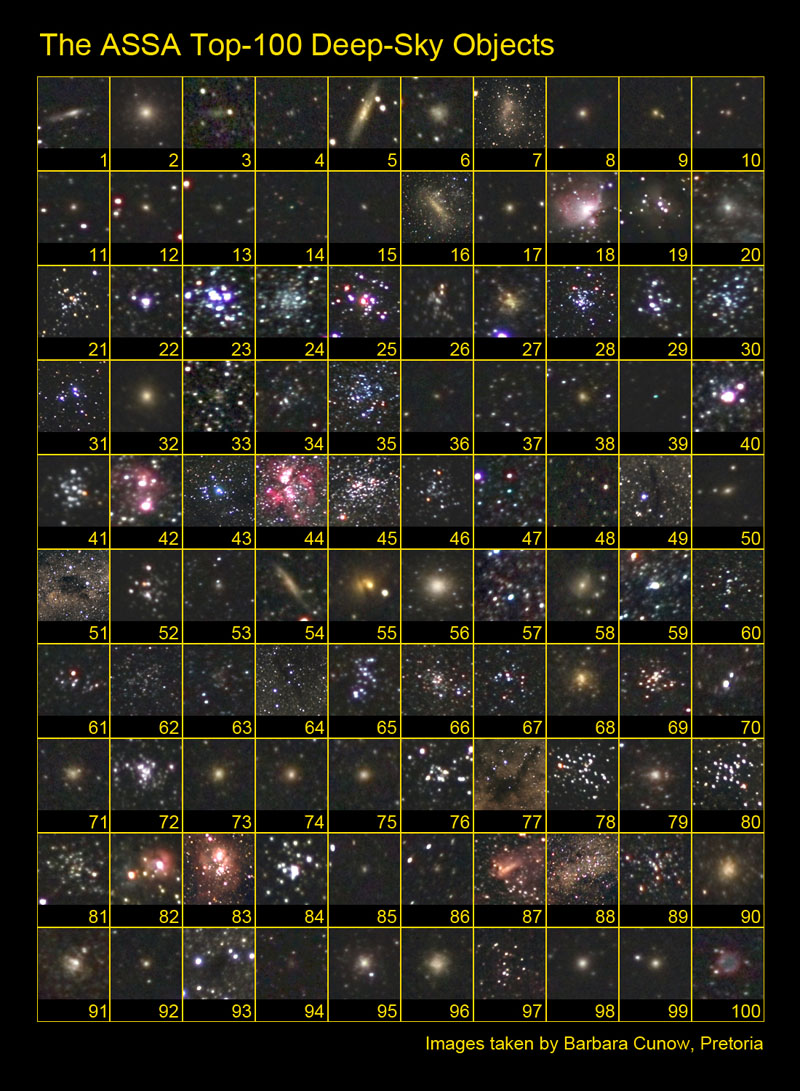 Collage by Michael Moller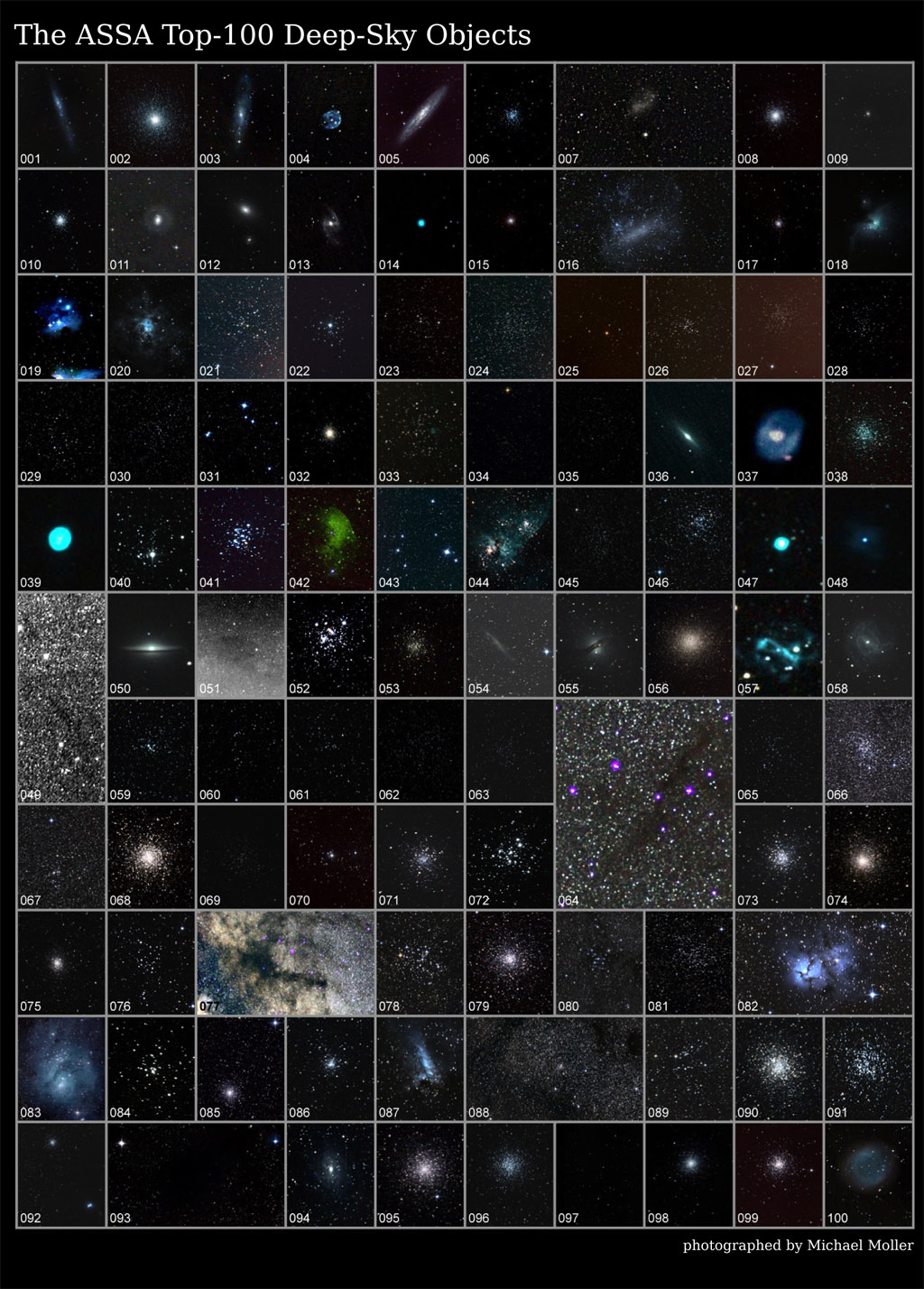 Collage by John Gill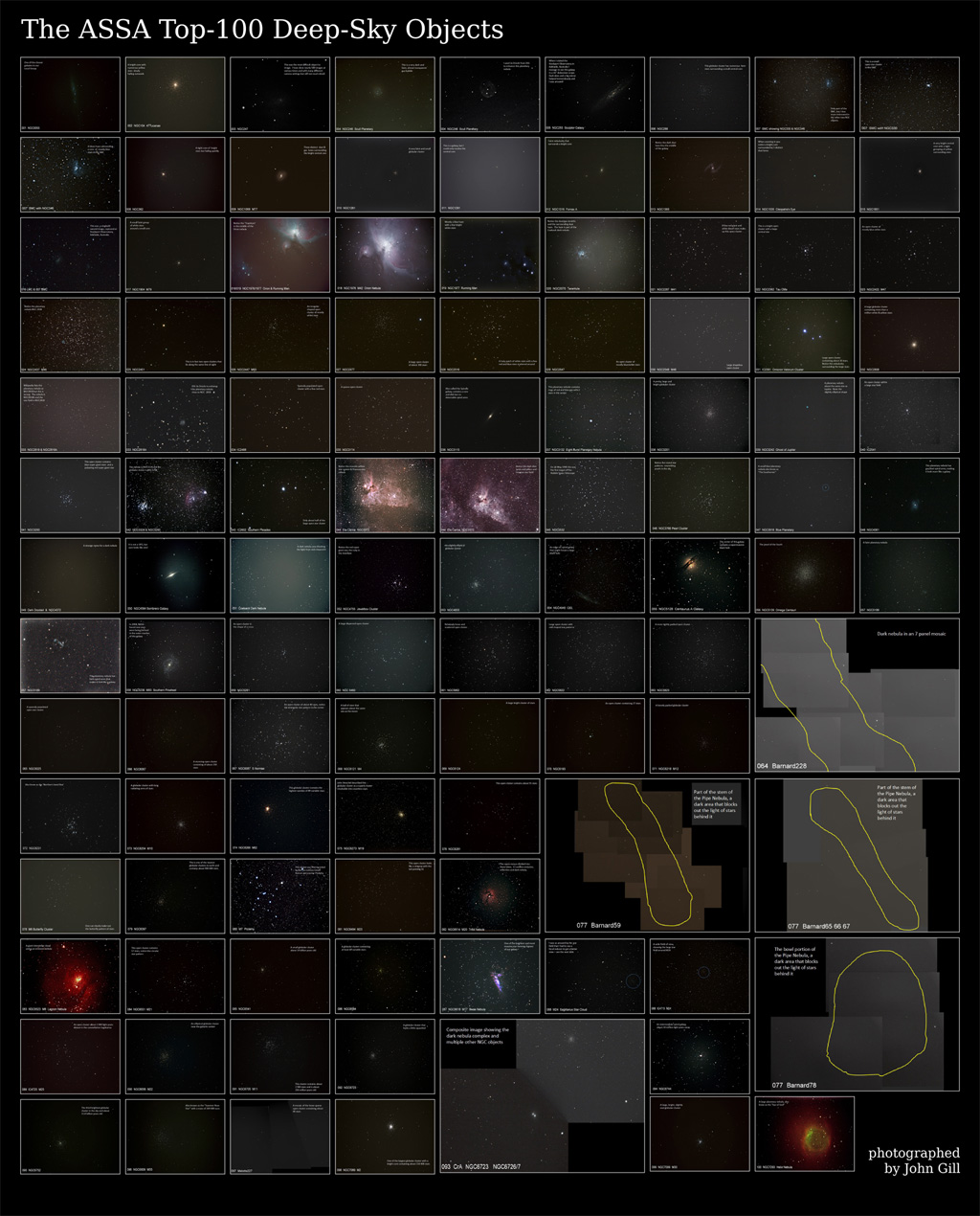 The Top-100 Deep-Sky Objects
| | | | | | | | | | |
| --- | --- | --- | --- | --- | --- | --- | --- | --- | --- |
| N | ID | Other designations | Ben | Type | Mag | Size | Con/td> | RA | Dec |
| 1 | NGC 55 | LEDA 1014 | 1 | Glxy | 7.9 | 32'x5.6' | Scl | 00 15 | –39 11 |
| 2 | NGC 104 | 47 Tucanae | 2 | Glcl | 4.5 | 31' | Tuc | 00 24 | – 72 05 |
| 3 | NGC 247 | LEDA 2758 | 3 | Glxy | 8.9 | 18' x 5' | Cet | 00 47 | – 20 46 |
| 4 | NGC 246 | PN G118.8-74.7 | | Plnb | 8.5 | 4' x 3.5' | Cet | 00 47 | – 11 53 |
| 5 | NGC 253 | Silver Coin | 4 | Glxy | 7.1 | 22' x 6' | Scl | 00 48 | – 25 17 |
| 6 | NGC 288 | Mel 3 | 5 | Glcl | 8.1 | 14' | Scl | 00 53 | – 26 35 |
| 7 | SMC | | | Glxy | 2.3 | 5° x 3° | Tuc | 00 53 | – 72 50 |
| 8 | NGC 362 | Mel 4 | 7 | Glcl | 6.6 | 13' | Tuc | 01 03 | – 70 51 |
| 9 | NGC 1068 | M 77 | 9 | Glxy | 8.9 | 7.1' x 6.0' | Cet | 02 43 | – 00 01 |
| 10 | NGC 1261 | GCl 5 | 11 | Glcl | 8.4 | 7' | Hor | 03 12 | – 55 13 |
| 11 | NGC 1291 | NGC 1269 | 12 | Glxy | 9 | 11' | Eri | 03 17 | – 41 08 |
| 12 | NGC 1316 | Fornax A | 14 | Glxy | 8.5 | 12' x 8.5' | For | 03 23 | – 37 12 |
| 13 | NGC 1365 | LEDA 13179 | 16 | Glxy | 9.5 | 9' x 4' | For | 03 34 | – 36 08 |
| 14 | NGC 1535 | PN G206.4-40.5 | 22 | Plnb | 9.3 | 20" x 17" | Eri | 04 14 | – 12 44 |
| 15 | NGC 1851 | GCl 9 | 32 | Glcl | 7.3 | 11' | Col | 05 14 | – 40 03 |
| 16 | LMC | | | Glxy | 0.5 | 11° x 9° | Dor | 05 24 | – 69 45 |
| 17 | NGC 1904 | M 79 | 34 | Glcl | 8.4 | 3' | Lep | 05 25 | – 24 33 |
| 18 | NGC 1976 | Orion Nebula, M 42 | | BrtN | 2.9 | 1.1° x 1° | Ori | 05 35 | – 05 27 |
| 19 | NGC 1977 | | | BrtN | 4.6 | 20' x 10' | Ori | 05 36 | – 04 52 |
| 20 | NGC 2070 | Tarantula Nebula | 35 | BrtN | | 40' | Dor | 05 39 | – 69 06 |
| 21 | NGC 2287 | Messier 41 | | OpCl | 4.6 | 38' | CMa | 06 46 | – 20 46 |
| 22 | NGC 2362 | Tau CMa cluster | | OpCl | 4.1 | 8' | CMa | 07 19 | – 24 57 |
| 23 | NGC 2422 | Messier 47 | | OpCl | 4.5 | 30' | Pup | 07 37 | – 14 30 |
| 24 | NGC 2437 | Messier 46 | | OpCl | 6.1 | 27' | Pup | 07 42 | – 14 49 |
| 25 | NGC 2451 | VdB-H 9 | | OpCl | 2.8 | 45' | Pup | 07 45 | – 37 58 |
| 26 | NGC 2447 | M 93 | | OpCl | 6.2 | 22' | Pup | 07 45 | – 23 52 |
| 27 | NGC 2477 | VdB-H 13 | | OpCl | 5.7 | 27' | Pup | 07 52 | – 38 33 |
| 28 | NGC 2516 | OCl 776.0 | | OpCl | 3.8 | 30 | Car | 07 58 | – 60 52 |
| 29 | NGC 2547 | | | OpCl | 4.7 | 20' | Vel | 08 11 | – 49 16 |
| 30 | NGC 2548 | M 48 | | OpCl | 5.8 | 55' | Hya | 08 14 | – 05 48 |
| 31 | IC 2391 | omicron Vel Cluster | | OpCl | 2.5 | 50' | Vel | 08 40 | – 53 04 |
| 32 | NGC 2808 | GCl 13 | 41 | Glcl | 6.3 | 14' | Car | 09 12 | – 64 52 |
| 33 | NGC 2818 | PN G261.9+08.5 | | OpCl | 8.2 | 9' | Pyx | 09 16 | – 36 37 |
| 34 | IC 2488 | VdB-H 69 | | OpCl | 7.4 | 15' | Vel | 09 28 | – 56 59 |
| 35 | NGC 3114 | VdB-H 86 | | OpCl | 4.2 | 35' | Car | 10 03 | – 60 07 |
| 36 | NGC 3115 | Spindle Galaxy | 42 | Glxy | 8.9 | 7.2' x2.5' | Sex | 10 05 | – 07 43 |
| 37 | NGC 3132 | Eight-Burst Nebula | 43 | Plnb | 8.2 | 84" x 53" | Vel | 10 08 | – 40 26 |
| 38 | NGC 3201 | GCl 15 | 44 | Glcl | 6.8 | 18' | Vel | 10 18 | – 46 25 |
| 39 | NGC 3242 | Ghost of Jupiter | 45 | Plnb | 8.6 | 16" | Hya | 10 25 | – 18 38 |
| 40 | IC 2581 | VdB-H 97 | | OpCl | 4.3 | 8' | Car | 10 27 | – 57 38 |
| 41 | NGC 3293 | Cr 224 | | OpCl | 4.7 | 40 | Car | 10 36 | – 58 14 |
| 42 | NGC 3324 | Ced 108 | | BrtN | 6.7 | 6' | Car | 10 37 | – 58 38 |
| 43 | IC 2602 | Southern Pleiades | | OpCl | 1.9 | 50' | Car | 10 43 | – 64 24 |
| 44 | NGC 3372 | eta Carinae Nebula | | BrtN | 5 | 120' | Car | 10 44 | – 59 52 |
| 45 | NGC 3532 | VdB-H 109 | | OpCl | 3 | 55' | Car | 11 06 | – 58 40 |
| 46 | NGC 3766 | BRAN 360, VdB-H 120 | | OpCl | 5.3 | 12 | Cen | 11 36 | – 61 37 |
| 47 | NGC 3918 | Blue Planetary | | Plnb | 8.4 | 12 | Cen | 11 50 | – 57 11 |
| 48 | NGC 4361 | PN G294.1+43.6 | | Plnb | 10.3 | 45" | Crv | 12 25 | – 18 48 |
| 49 | Black Python | SDC 301.0-08.6c | | DrkN | – | 80' x 3' | Mus | 12 27 | – 71 25 |
| 50 | NGC 4594 | Sombrero, M 104 | 52 | Glxy | 8 | 8.7' x 3.5' | Vir | 12 40 | – 11 37 |
| 51 | Coalsack | | | DrkN | – | 6.5° x 5° | Cru | 12 53 | – 63 00 |
| 52 | NGC 4755 | Herschel's Jewel Box | | OpCl | 4.2 | 10' | Cru | 12 54 | – 60 20 |
| 53 | NGC 4833 | GCl 21 | 56 | Glcl | 7.4 | 14' | Mus | 13 00 | – 70 53 |
| 54 | NGC 4945 | LEDA 45279 | 57 | Glxy | 8.3 | 20' x 3.8' | Cen | 13 05 | – 49 28 |
| 55 | NGC 5128 | Centaurus A | 60 | Glxy | 7 | 18' x 14' | Cen | 13 26 | – 43 01 |
| 56 | NGC 5139 | Omega Centauri | 61 | Glcl | 3.7 | 36' | Cen | 13 27 | – 47 29 |
| 57 | NGC 5189 | IC 4274 | 62 | Plnb | 10.3 | 2.6' | Mus | 13 34 | – 65 59 |
| 58 | NGC 5236 | M 83 | 63 | Glxy | 7.5 | 13' x 11' | Hya | 13 37 | – 29 52 |
| 59 | NGC 5281 | VdB-H 152 | | OpCl | 5.9 | 5' | Cen | 13 47 | – 62 54 |
| 60 | NGC 5460 | C 1404-480 | | OpCl | 5.6 | 25' | Cen | 14 08 | – 48 19 |
| 61 | NGC 5662 | VdB-H 162 | | OpCl | 5.5 | 12' | Cen | 14 35 | – 56 33 |
| 62 | NGC 5822 | VdB-H 168, Mel 130 | | OpCl | 6.5 | 40' | Lup | 15 05 | – 54 21 |
| 63 | NGC 5823 | VdB-H 169, Mel 131 | | OpCl | 7.9 | 10' | Cir | 15 06 | – 55 36 |
| 64 | Barnard 228 | Be 148 | | DrkN | – | 4° x 20' | Lup | 15 45 | – 34 24 |
| 65 | NGC 6025 | VdB-H 181 | | OpCl | 5.1 | 12' | TrA | 16 04 | – 60 30 |
| 66 | NGC 6067 | Mel 140 | | OpCl | 5.6 | 13' | Nor | 16 13 | – 54 13 |
| 67 | NGC 6087 | S Norma Cluster | | OpCl | 5.4 | 12' | Nor | 16 19 | – 57 54 |
| 68 | NGC 6121 | Me 4, GCl 41 | 75 | Glcl | 6 | 26' | Sco | 16 24 | – 26 32 |
| 69 | NGC 6124 | C 1622-405 | | OpCl | 5.8 | 29' | Sco | 16 26 | – 40 40 |
| 70 | NGC 6193 | VdB-H 195 | | OpCl | 5.2 | 15' | Ara | 16 41 | – 48 46 |
| 71 | NGC 6218 | M 12 | 80 | Glcl | 6.6 | 15' | Oph | 16 47 | – 01 57 |
| 72 | NGC 6231 | VdB-H 201 | | OpCl | 2.6 | 15' | Sco | 16 54 | – 41 48 |
| 73 | NGC 6254 | Me 10 | 83 | Glcl | 6.6 | 15' | Oph | 16 57 | – 04 06 |
| 74 | NGC 6266 | Me 62, GCl 51 | 85 | Glcl | 6.6 | 14' | Oph | 17 01 | – 30 07 |
| 75 | NGC 6273 | M 19, GCl 52 | 86 | Glcl | 7.1 | 14' | Oph | 17 03 | – 26 16 |
| 76 | NGC 6281 | Cr 324 | | OpCl | 5.4 | 8' | Sco | 17 05 | – 37 54 |
| 77 | B 59-78 | Pipe Nebula | | DrkN | – | 7° | Oph | 17 25 | – 26 30 |
| 78 | NGC 6405 | Butterfly Cluster, M 6 | | OpCl | 4.2 | 15' | Sco | 17 40 | – 32 13 |
| 79 | NGC 6397 | GCl 74 | 98 | Glcl | 5.6 | 26' | Ara | 17 41 | – 53 40 |
| 80 | NGC 6475 | Ptolemy's Cluster, M 7 | | OpCl | 3.3 | 80' | Sco | 17 54 | – 34 49 |
| 81 | NGC 6494 | M 23 | | OpCl | 5.5 | 27' | Sgr | 17 57 | – 19 01 |
| 82 | NGC 6514 | Trifid Nebula, M 20 | | BrtN | 8.5 | 29' x 27' | Sgr | 18 03 | – 23 02 |
| 83 | NGC 6523 | Lagoon Nebula, M 8 | | BrtN | 5.8 | 1.5° x 0.7° | Sgr | 18 04 | – 24 23 |
| 84 | NGC 6531 | M 21 | | OpCl | 5.9 | 13' | Sgr | 18 05 | – 22 30 |
| 85 | NGC 6541 | GCl 86 | | Glcl | 6.6 | 13' | CrA | 18 08 | – 43 42 |
| 86 | NGC 6584 | GCl 92 | 107 | Glcl | 9.2 | 8' | Tel | 18 19 | – 52 13 |
| 87 | NGC 6618 | Omega Nebula, M 17 | 108 | BrtN | 7 | 0.8° x 0.6° | Sgr | 18 21 | – 16 11 |
| 88 | IC 4715 | M 24 | | *cld | 3.1 | 95' x 35' | Sgr | 18 27 | – 18 23 |
| 89 | IC 4725 | M 25 | | OpCl | 4.6 | 32' | Sgr | 18 32 | – 19 15 |
| 90 | NGC 6656 | M 22 | 114 | Glcl | 5.1 | 24' | Sgr | 18 36 | – 23 54 |
| 91 | NGC 6705 | Wild Duck Cluster, M 11 | 116 | OpCl | 5.8 | 14' | Sct | 18 51 | – 06 16 |
| 92 | NGC 6723 | ESO 396-SC010 | 119 | Glcl | 7.2 | 11' | Sgr | 18 59 | – 36 38 |
| 93 | R CrA | DCld359.8-17.9 | | DrkN | – | 110' x 28' | CrA | 19 02 | – 37 03 |
| 94 | NGC 6744 | LEDA 62836 | 120 | Glxy | 9 | 15' x 10' | Pav | 19 10 | – 63 51 |
| 95 | NGC 6752 | GCl 108 | 121 | Glcl | 5.4 | 20' | Pav | 19 11 | – 59 59 |
| 96 | NGC 6809 | M 55 | 122 | Glcl | 7 | 19' | Sgr | 19 40 | – 30 58 |
| 97 | Melotte 227 | Cr 411 | | OpCl | 5.3 | 50' | Oct | 20 12 | – 79 19 |
| 98 | NGC 7089 | M 2 | 127 | Glcl | 6.5 | 13' | Aqr | 21 34 | – 00 49 |
| 99 | NGC 7099 | M 30 | 128 | Glcl | 7.5 | 11' | Cap | 21 40 | – 23 11 |
| 100 | NGC 7293 | Helix Nebula | 129 | Plnb | 6.5 | 15' x 12' | Aqr | 22 30 | – 20 48 |