van den Bos, Willem Hendrik [Dr]

Professional Astronomer

Born:1896, Rotterdam, Holland
Died: 30 March 1974.

 

---

Famous for:
Record amount of discoveries of double stars.
Published catalogue of double stars which was the standard for the time.
Director of

Republic

Observatory (Then called Union Observatory) 1941 – 1956.
President of A.S.S.A. in 1943 and 1955.
Summary:

---

History:
van den Bos was from Leiden Observatory, Holland.  He  came to

Union

Observatory  (renamed Republic Observatory) in 1925 on a temporary basis,  and never went back.
van den Bos became the Director of the Union Observatory in 1941.
"…his  doctorate thesis was on the subject of double stars. Like

Innes

, he was primarily a double-star observer, and for him the

26.5 inch

was a  perfect telescope. He made a total of 71 929 measurements,  discovering 2 895 new pairs – a record which is not likely to be surpassed – and compiling a catalogue of double stars south  of declination -19° which remains the standard. There were few cloudless nights when he was not to be found in the dome, hard at work. Quite apart from his actual observing, he worked out  the orbits of nearly one hundred binaries, using methods  of his own invention, which promptly came into general use. Naturally enough he came to be accepted as the leader in his field,  and he received many honours – notably the Gold Medal of the Royal Danish Academy and the Gill Medal of the Astronomical Society of Southern Africa, of which he was President in 1943 and again in 1955. He also found time to discover a hundred new minor planets. It was an amazing  achievement." [Copied from Moore, p. 103.]
van den Bos was one of the greatest double star observers and in 1969, the

Lowell planetary project

threatened to become the death knell for double star observing at the Republic Observatory.  It was decided that  the observatory must share the Innes refractor used for double  star work, with taking photographs of the planets. With this telescope  a problem arose with the very long focal length (f/90-) that made the telescope very slow. The filters were in a very narrow band, allowing very little light through, and thus the photos required very long exposures. To take the required 45 exposures per hour  took much longer than anticipated, leaving little time for anything else.  In practice this instrument became a dedicated instrument to the Lowell project.
van den Bos, retired at this time stayed at an old age home near the Observatory grounds. For about a year Mr De Klerk fetched  van den Bos at his home and the two of them tried to observe double  stars in between the taking photographs for the Lowell project.   It meant taking the camera off the Innes refractor and replacing it with a micrometer until it was time to take the next photo. It proved impractical and after a while, they gave up. [Personal  communication with G Roberts]
.
Career:
Doctoral thesis on Double Stars.
1941 – 1956: Director of

Republic Observatory

    

(Then called Union Observatory)
Total  measurement of 71 929 double stars, discovered 2 895 new pairs, a record for the time.
Compiled a catalogue of double stars south of -19 degrees declination.  This catalogue became the standard for the time.
Discovered 100 new minor planets.
President of A.S.S.A. in 1943 and 1955.
.
Honours  received:
Gold medal of the Royal Danish Academy.
Gill Medal of A.S.S.A..
Personal:
1896:Born in Rotterdam.
Retired  and stayed at an old age home in the vicinity.
1974 (March 30): Died.
He was a man of charming personality and absolute integrity.

---

---

Remaining Artifacts:
.
Bibliography:
Laing, J.D. (ed.), The Royal Observatory at the Cape of Good Hope 1820  – 1970 Sesquicentennial Offerings, p.
Moore, P. & Collins, P., Astronomy in Southern Africa, p. 99; pp.101  – 104; p.107.  (General Source)
Smits  P.  A Brief History of Astronomy in Southern Africa. (Unpublished).
Personal Communication with G Roberts.
.
By van den Bos:

---

Related Internal Links:
Johannesburg Observatory.
Related External Links:
Speckle Catalog:
Gallery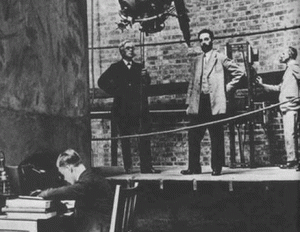 The four successive Union Astronomers: R.T.A. Innes (left) 1912 – 27; H.E. Wood (right) 1927 – 41; W.H. van den Bos (centre) 1941 – 56; W.S. Finsen (at desk) 1957 – 65.