Twin Rockefeller

Two  identical 16 inch (40cm) telescopes

Note:  Not to be confused with the Rockefeller 60-inch telescope at Boyden Observatory.
Index:
Summary; History; Current; Technical; Sources; Links; Gallery:
In brief
Important  Contributions:
Description:
In 1929 the Rockefeller Foundation provided funds for a twin 16 inch photographic refractor to study variable stars in the Milky Way and globular clusters.

After  delays with the lenses, the telescope was set up in 1938.

The  telescope was made up of two telescopes, each with an objective glass of 16 inches to be used for stellar astronomy. The telescopes were identical and the arrangement was designed as a safety measure. When a portion of the sky was photographed, both telescopes were loaded so that if one plate proved to be faulty for any one reason the other would probably prove correct.

This telescope was one of the Leiden Instruments. Due to an agreement there was co-operation between Leiden and Union (Republic) Observatories. This instrument was initially set up at Union Observatory although it never belonged to them. Later it was moved to the Leiden Southern Station also known as Hartebeespoort.
Historical Background
Owners:
Where Located:
Current  Information
Present  Location:
Hartebeespoort
Owner:
Pretoria Technikon
Status:
Condition:
Technical Details
Type: Refractor
Aperture: 16 inch (40.6 cm)
Focal Length:
Lens:
Mounting:
Attachments: Photometers developed by Dr.  Walraven.
Manufacturer:
Sources
Link to the Main Bibliography Section and more information about Sources.
Documentation:
Pictorial Sources:
Moore,  P. & Collins, P., Astronomy in Southern Africa, p.108, p.109.
Bibliography:
Moore,  P. & Collins, P., Astronomy in Southern Africa, p.102, p.107. (General Source)

Smits  P. A Brief History of Astronomy in Southern Africa. (Unpublished)

Links
Gallery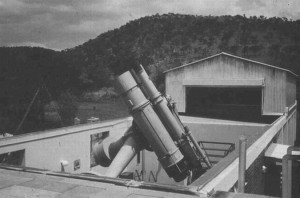 The 16 inch Rockefeller twin astrograph at Leiden Southern Station, Hartebeespoort.
Photo Credit: David Stevenson. Source: Moore.