Index:
Summary; History; Current; Technical; Sources; Links; Gallery:
In brief
Important  Contributions:
Description:
Harry Escombe, an amateur astronomer, acquired this telescope and presented it to the Natal Observatory. The Observatory functioned between 1882 and 1911. Thereafter the telescope stood unused, except for Cousins who used it from 1939 to 1947. In the 1950's the tube of the telescope and the Natal Observatory metal dome were sold as scrap metal and smelted down. The optics were saved but disappeared again. For more information click here.
Historical Background
Owner:
Natal Observatory
Where Located:
Natal Observatory
Current Information
Present  Location:
The tube has been smelted down and and the lens is missing
Owner:
No owner.
Status:
Obsolete.
Condition:
In the 1950's the tube of the telescope was sold as scrap metal and smelted down. The optics of the telescope, specifically the lens of the refractor was saved by the then secretary of the local astronomy society. He had a wooden box made to protect the lens and stored it "safely" in a cupboard in his garage. He went away with friends for the weekend and his wife used the opportunity to do a bit of spring cleaning. The lens was traced to an auctioneer in Zambia where the trail ends. The current location is unknown. [Personal communication with Andrew Gray; CdC]
Technical Details
Type: Reflector
Aperture: 8 inch (20cm)
Focal Length:
Lens:
Mounting:
Attachments:
Manufacturer: Grubb
Operational History:
Building: Rotating dome of the Natal Observatory.
Sources
Link to the Main Bibliography Section and more information about Sources

Sources
Documentation:
Pictorial Sources:
Bibliography:
Glass, I. S., "Alan Cousins, 1903 – 2001" a biography, MNASSA, Vol 60, Nos 7 & 8, August 2001.

Moore, P. & Collins, P., Astronomy in Southern Africa, pp. 132 – 136. (General Source)

Smits  P. A Brief History of Astronomy in Southern Africa. (Unpublished).
Links
Gallery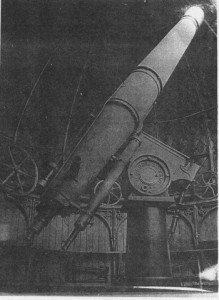 The 8 inch Grubb refractor was donated to the Natal Observatory by Harry Escombe in 1882. Photo circa 1926.
Courtesy Local History Museum, Durban. Source: Gray [unpublished]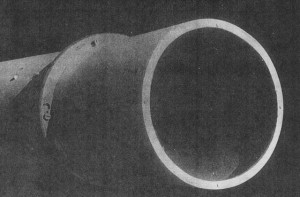 Close up of the objective lens and housing of the 8 inch Grubb refractor.
Courtesy Local History Museum, Durban. (Source: Gray [unpublished]