Telescopes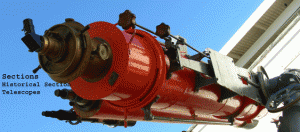 ---
Telescope Makers
For more information about the telescope manufacturers and their telescopes as used in Southern Africa.
---
Index:
Optical Telescopes
Very Old;  Smaller than 50-cm (20-inch);  50-cm to 1-meter;  Larger than 1-meter;
Transit Instruments; Solar Telescopes; Miscellaneous
Optical Telescopes
Very old telescopes
---
Telescopes smaller than 50-cm (20-inches)
---
Telescopes between 50-cm and 1-m
---
Telescopes 1-m and larger
---
Transit Instruments:
---
Solar Telescopes – Heliometers
Miscellaneous telescopes
---
Gamma Ray Astronomy
---
---
Radio Astronomy Dishes
NOTE: A change in the designation (name) of telescopes took place in the 1970s with the creation of the South African Astronomical Observatory (S.A.A.O.). A few years prior, South Africa converted to the decimal system.  Previously telescopes used to be referred to by their names e.g. Elizabeth telescope; or by their diameter in inches, e.g. 40 inch telescope.  In documentation from the 1970s onwards the telescopes are referred to by their diameter in the decimal system, e.g. 100-cm telescope. All the above examples refer to the same instrument.
   All the telescopes discussed were commissioned to be built, i.e. they were custom made. Mass produced telescopes will only be mentioned in the appropriate place, but no space will be allocated to them in the section telescopes. (e.g. modern mass-produced Meade and Celestron telescopes.)